Spacious & Well-Equipped Meeting Room in Cebu
Welcome to Sales Rain's Small Meeting Rooms in Cebu page!
Are you looking for a small meeting room in Cebu that's convenient and fully equipped with modern facilities? Look no further! Our meeting rooms in IT Park offer a professional and comfortable space that's perfect for your business needs.
At Sales Rain, we understand that finding the right meeting room is essential for the success of your business. That's why we offer fully equipped and customizable small meeting rooms that are designed to provide a productive and comfortable work environment.
Our small meeting rooms in IT Park are available in various sizes to accommodate your specific requirements. Whether you need a space for a small team meeting or a one-on-one consultation, our meeting rooms are equipped with high-speed internet, modern telecommunications systems, and presentation equipment to ensure that your meeting runs smoothly.
Salesrain's meeting room in Cebu
Our meeting rooms are located in a prime location, providing easy access to public transportation and other essential amenities. With Sales Rain's meeting rooms in IT Park, you can enjoy the benefits of being located in one of the most prestigious business districts in Cebu.
We believe in providing our clients with a hassle-free experience, which is why we offer flexible booking options and all-inclusive pricing. Our dedicated team of professionals is always on hand to provide you with the support you need to succeed.
Looking for a spacious and well-equipped meeting room in Cebu? Our state-of-the-art facility offers the perfect environment for all your business meetings, presentations, and conferences.
Located in the bustling city of Cebu, our meeting room is strategically designed to cater to your professional needs. With ample space, you can comfortably accommodate a large group of participants without feeling crowded. Whether you're hosting a team meeting, training session, or client presentation, our room provides the ideal space for collaboration and interaction.
At Sales Rain, we understand the importance of having the right tools and equipment for a successful meeting. That's why our meeting room is fully equipped with the latest technology and amenities. From high-speed internet access to audiovisual equipment, we have everything you need to make your meeting run smoothly. Our professional staff is also available to assist you with any technical requirements, ensuring a seamless experience.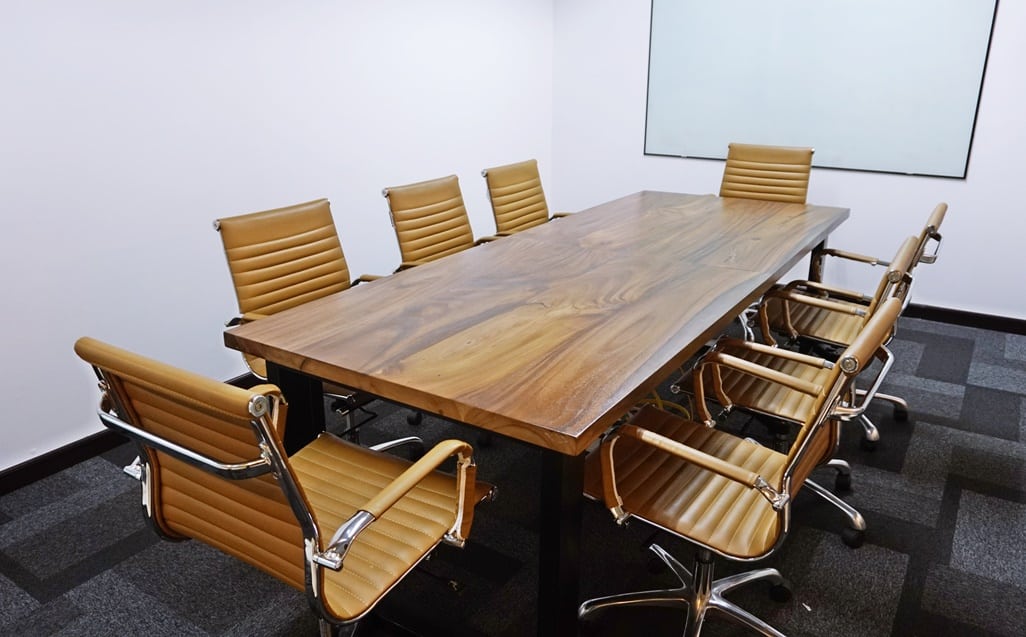 In addition to our impressive facilities, Sales Rain offers a range of customizable services to meet your specific needs. Whether you require catering services, secretarial support, or additional equipment, our dedicated team is here to assist you every step of the way. We strive to provide a hassle-free experience, allowing you to focus on your meeting objectives while we take care of the rest.
Cebu is a vibrant and dynamic city with a thriving business community. Our meeting room is conveniently located, providing easy access to transportation, hotels, and other amenities. You and your attendees can enjoy the convenience and accessibility of a central location, enhancing the overall experience of your meeting.
In conclusion, Sales Rain offers a spacious and well-equipped meeting room in Cebu, perfect for all your business needs. With cutting-edge technology, customizable services, and a prime location, we provide the ideal setting for productive and successful meetings. Contact us today to book your next meeting and experience the Sales Rain difference.
Don't let the lack of a suitable meeting room hold your business back. Contact Sales Rain today at info@salesrain.com to learn more about our small meeting rooms in IT Park and how we can help your business thrive.
Have an urgent question?
Call us at:  +63 917 311 7246