Office Space for Lease in The Philippines
Welcome to Sales Rain's Eastwood IBM Plaza office space for lease! Our prime location offers the best office spaces for lease in Eastwood City, Philippines. We provide fully furnished and serviced offices that cater to businesses of all sizes.
Our Eastwood IBM Plaza office spaces floors are strategically located within the central business district of Eastwood City, surrounded by retail centers, residential towers, and other commercial establishments. Our location offers convenience to businesses looking to lease office space in a highly accessible area.
Our office spaces are designed to suit the needs of various businesses. Whether you need a private office for a team of five or a large space for a hundred people, we have the perfect solution for you. All our offices are fully furnished and equipped with high-speed internet, telephone lines, and other essential office amenities.
At Sales Rain, we provide flexible lease terms, allowing you to choose the lease duration that best suits your business needs. Our offices are available for lease on a monthly or long-term basis, depending on your preference.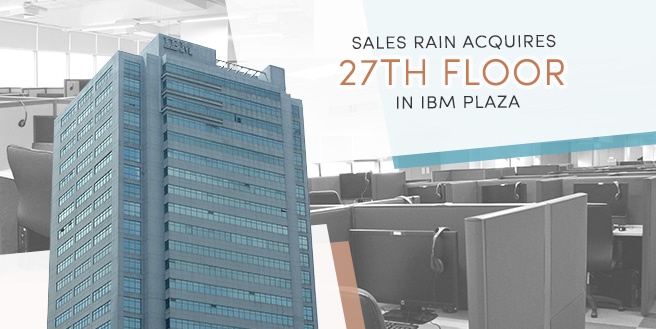 Our Eastwood IBM Plaza office space for lease is also available for virtual offices, allowing you to establish a professional business presence in a prime location without the need for a physical office space. Our virtual office solutions include a professional business address, mail handling, and call forwarding services.
Are you in search of a professional office space in the Philippines? Look no further than Sales Rain. We offer top-notch office solutions designed to meet the diverse needs of businesses across the country.
At Sales Rain, we understand that a professional office space sets the tone for your business. Our office spaces exude professionalism and provide a conducive environment for productivity and success. Whether you're a start-up, a small business, or a multinational corporation, we have the perfect office space to cater to your requirements.
Our office spaces are meticulously designed to meet the highest standards. With modern and stylish interiors, ergonomic furniture, and spacious layouts, we create an atmosphere that fosters creativity and collaboration. Whether you prefer open-plan workstations, private offices, or meeting rooms, we offer flexible options to match your specific needs.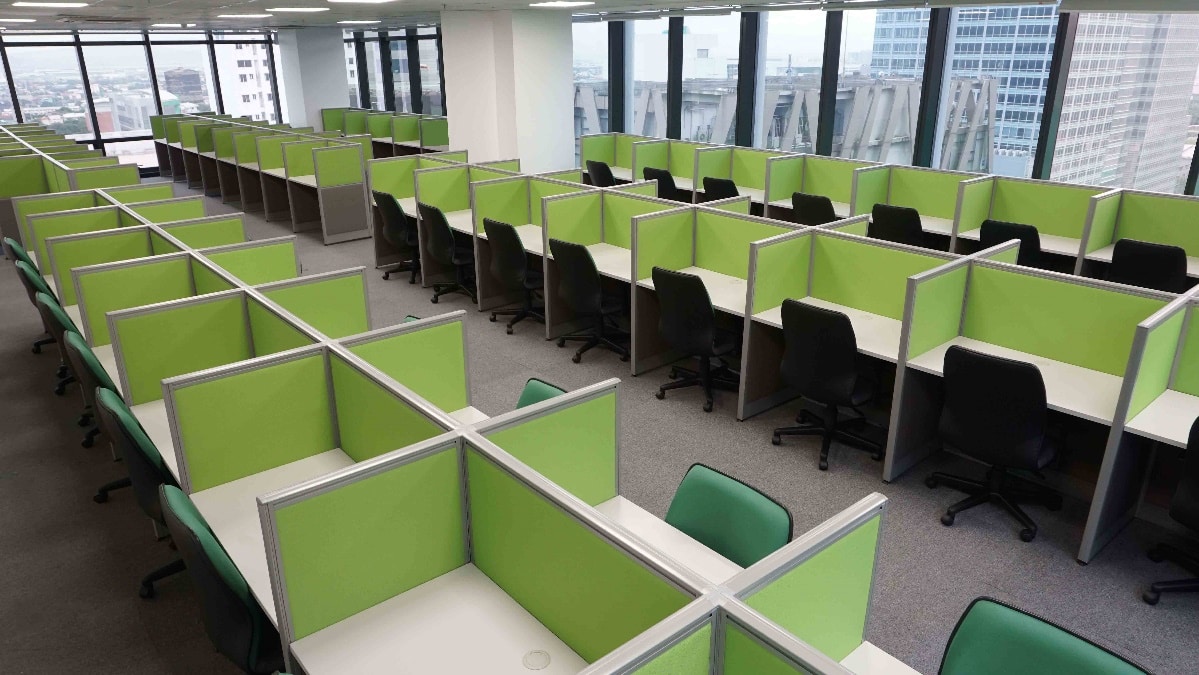 When you choose Sales Rain, you gain access to a wide range of amenities and services that enhance your work experience. We provide high-speed internet, state-of-the-art technology infrastructure, and advanced IT support to ensure seamless connectivity and efficient operations. Our professional support staff is available to assist you with administrative tasks, mail handling, and other business support services, allowing you to focus on your core operations.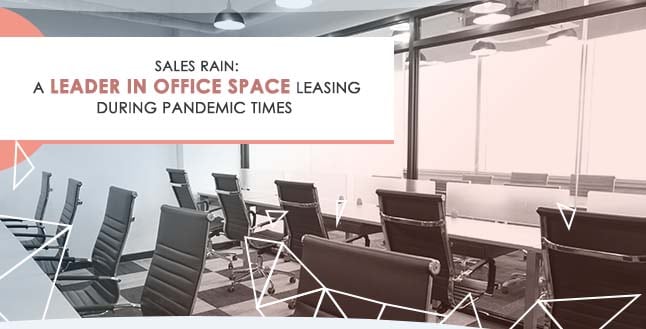 Location plays a vital role in choosing an office space, and Sales Rain offers prime locations throughout the Philippines. Our office spaces are strategically situated in key business districts, providing easy access to transportation, dining options, and other essential amenities. With our locations, you and your team can enjoy the convenience and prestige of being in the heart of thriving commercial centers.
Renting a professional office space with Sales Rain is a cost-effective solution for your business. We offer flexible lease terms and competitive pricing options to fit your budget. Our scalable options allow you to easily expand or downsize your office space as your business needs evolve, ensuring maximum cost efficiency.
In conclusion, Sales Rain provides professional office spaces in the Philippines, tailored to meet the diverse needs of businesses. With meticulously designed spaces, modern amenities, prime locations, and flexible lease terms, we offer the ideal solution for companies seeking a professional and productive workspace. Contact us today to find the perfect office space for your business in the Philippines.
At Sales Rain, we offer cost-effective solutions for businesses looking for premium office spaces for lease. Our Eastwood IBM Plaza location offers all the amenities and conveniences you need to grow your business. Contact us today at info@salesrain.com to learn more about our office space for lease solutions and book a tour of our offices.
Have an urgent question?
Call us at:  +63 917 311 7246