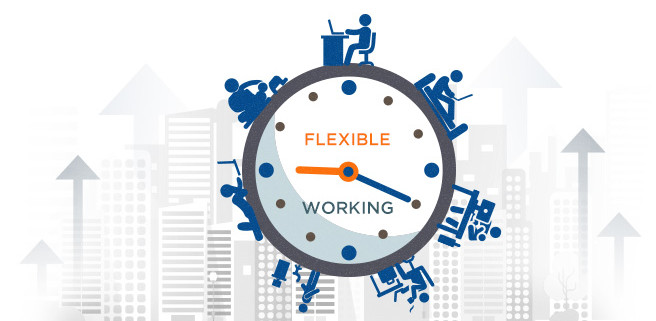 According to Robert Frost, "Freedom lies in being bold".
It takes a certain amount of courage for a leader to give its subordinates the liberty of reaching their objectives in the best way they see fit. And though it can be seen as a great leadership move, it is very challenging to define its boundaries.
In a workplace environment, freedom is applied in the ability of keeping non-traditional hours – contrary from the 9-to-5 setting the majority of the workforce is used to, work from home, taking limitless vacation days and exercising creative approach in meeting career goals.
Despite of how taboo the concept of flexible working may seem, a significant shift in the workforce has been observed over the past years.
An increasing number of employees are turning away from the traditional model of work hours. New ways of operation continue to grow in popularity, transforming our offices and giving us a precaution for a big change that's about to happen in the near future.
The Numbers
Last year, the industry has been exposed to more information about remote work. In India, 53 percent of their workers prefer to work from home. All the while in the United States, 38 percent of employees say that they are able to work from home at least once a week.
Over in the United Kingdom, the number of people working from home grew by 800, 00 to more than 4 million, and an estimated 1.8 million of workers would do so if allowed. And in developing countries, an estimated 10 to 20 percent of managers work remotely.
Private companies and even governments have also begun to formalize remote work. In Saudi Arabia, 500 companies in 70 cities allow people to work remotely. On the other hand, Japan's Toyota announced that it will allow one-third of its workforce to start working remotely. Turkey also took into consideration the discrimination remote workers get based on how they perform their tasks.
Surveys and statistics prove that this shift towards flexible working is real and not a myth.
The Aftermath: Inevitable Rise of Flexible Working
With the surge of overruling the traditional ideologies the workforce have had for decades, the demand for a kind of workspace that allows freedom to its employees have materialized.
And in the year 2012, a new type of office space was born:  Coworking Spaces
With the growth at an average of 61%, coworking spaces can now be found in countries around the globe. The market have skyrocketed over the last three years and according to the Global Co-working Survey, nearly 1.2 million people worldwide will have worked in a co-working space by the end of 2017.
With an open office setup, its design aims to integrate the comfort of your home, ambiance of your favorite café and functionality of an office. Coworking spaces is different from the traditional workspace in a sense that it gives you more freedom to choose the type of set up you think would be best for you and creates a community that fosters collaboration.
Getting sick of your desk? No worries! Grab your things and move! In need of social interaction? Why don't you join the rest of the crew in the lounge area? Just imagine, no restraints on what you think works well for you.
Can you see it now? If not, hit us up and we'll give you a sneak peek on how liberating it is to be free.
https://salesrain.com/wp-content/uploads/2017/08/flexible.jpg
329
656
salesrainadmin
https://salesrain.com/wp-content/uploads/2017/09/salesrainLogoFinal-main.png
salesrainadmin
2017-08-01 10:03:38
2023-08-11 12:58:59
The Inevitable Rise of Flexible Working