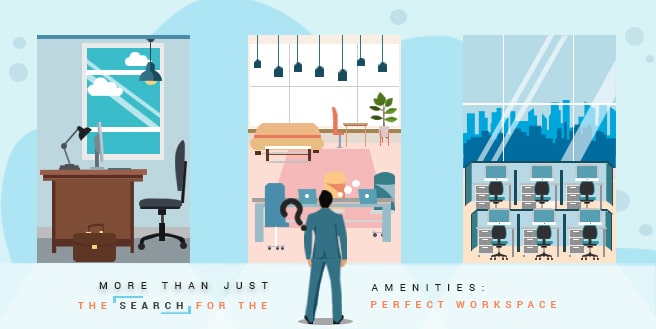 Here's a story of a young entrepreneur searching for the perfect home for his startup and discovering a new meaning for the word amenities.
Young Andrew and his small team of professionals have finally decided to move their brainchild – a hip and modern Ad agency – from his home office to a proper workspace. And being the considerate leader he is, he gathered his team and asked each of them what they're hoping their new office would be.
He first discussed the plan of moving out with his female members. After asking their opinions on what type of workspace would be best for them, they all expressed their hopes of having a space that would enhance their team's overall well-being and health. It's a must-have for them and the business as well, to succeed. And Andrew agrees with them; he noticed the trend amongst his colleagues and close friends; everyone's becoming more aware of their health than they ever did before, and everyone is hoping that their respective bosses take good care of them.
Taking this into consideration, Andrew goes out on his own to look at specific spaces and see what serviced office providers are doing to ensure that their clients are happy and healthy. Strings of coworking spaces and other shared offices now carry yoga studios and on-site gyms. Others offer meditation spaces, chill-out zones, and lounge areas.
Next, he asked his male members who often worked remotely on what they can suggest. They shared their sentiments on having spaces that can increase collaboration among the team and further expand its network. Most of them hope to have a workspace that can stimulate their creativity. They also suggested that it could be helpful for the startup to meet prospects, clients, and partners.
Though Andrew still hasn't experienced what it feels like to work in a coworking space, he knows plenty of professionals who already gave it a try – and he's heard the same thing from them. They admit that though the open-plan office has surrounded itself with both praise and criticism, they've earned so much more than expected. From new colleagues and new friends to brand new projects and collaborations with fellow artists and professionals, the claims several articles and studies have made regarding the complimentary impact coworking has, seemed to be true.
After searching for possible serviced office providers that carry both coworking spaces for collaborative work and private offices for concentrated activities, Andrew took some time off to ask himself the question he's been asking himself: what would his office be like?
Being someone who enjoyed the outdoors, Andrew thought it would be nice for their next headquarters to allow him and his team to connect with nature. He's had his first-hand experience of the positive benefits brought upon by exposure to green space, and with his female employees' concern for their overall well-being, nature can be of great help in ensuring that his team stays healthy and happy.
After visiting several serviced offices and trying them out for himself by using coworking day passes, Andrew realized that the word "amenities" in office spaces now carries a vastly different meaning to both them, the workers, and the providers.
Contemplating on the sentiments his team had shared with him and the phenomenon he has observed among serviced offices, workplace amenities now serve a meaningful purpose. Providers aren't just adding them to add an edgeto their brand; they're expanding their services to suit their partners better.
Serviced office providers like Sales Rain and professionals like Andrew and his team view office amenities as helping tools for a successful career.
Talk to us today, and we'll help you gain access to meaningful amenities!
https://salesrain.com/wp-content/uploads/2020/09/option2.jpg
329
656
salesrainadmin
https://salesrain.com/wp-content/uploads/2017/09/salesrainLogoFinal-main.png
salesrainadmin
2020-09-11 12:31:31
2020-11-24 11:43:33
More Than Just Amenities: The Search For The Perfect Workspace