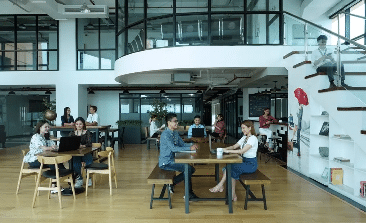 The Philippines has emerged as a prime destination for businesses seeking cost-effective and efficient solutions for their office space needs. With a flourishing business process outsourcing (BPO) industry and growing demand for flexible office solutions, the country offers many opportunities for call center seat leasing, virtual offices, co-working spaces, and professional office space. 
In this article, we explore the advantages of choosing the Philippines as the go-to destination for professional office spaces, catering to the diverse requirements of modern businesses.
Call Center Seat Leasing: Empowering Global Connectivity
The Philippines is globally renowned for its robust BPO industry, with call centers being a cornerstone of its success. The country's vast pool of English-speaking, highly skilled professionals makes it an ideal location for businesses seeking to expand their customer service and support operations. Call center seat leasing in the Philippines offers companies the advantage of accessing a talented workforce without the complexities of setting up an entire office. Outsourcing call center operations to the Philippines reduces costs and ensures 24/7 availability, enabling seamless global connectivity for businesses of all sizes.
2. Virtual Offices: A Smart Business Solution
Virtual offices in the Philippines are attractive for entrepreneurs and start-ups seeking a prestigious business address without the hefty price tag. A virtual office rental provides businesses with a professional address, mail-handling services, and access to meeting rooms on-demand. This flexible solution allows companies to establish a strong presence in key business districts without needing physical office space. It is an excellent choice for those looking to expand their market reach and enhance their corporate image.
3. Co-working Space: Fostering Collaboration and Networking
As the gig economy thrives, co-working spaces in the Philippines have gained immense popularity among freelancers, start-ups, and established companies. These dynamic environments offer more than just a desk to work from; they cultivate a vibrant community of like-minded professionals, encouraging collaboration and networking opportunities. Co-working spaces provide access to modern amenities like high-speed internet, meeting rooms, and shared facilities while fostering an inspiring atmosphere that fuels creativity and productivity.
4. Professional Office Space: Customized Solutions for Businesses
The Philippines offers many options in prime locations across major cities for businesses seeking dedicated, private office space. Whether it's a small office for start-ups or ample office space for expanding enterprises, professional office spaces are available to suit specific business needs. Companies can customize their office layout, incorporating their branding and corporate identity, while enjoying the benefits of a fully furnished and equipped workspace.
Philippines: Empowering Office Solutions Hub
The Philippines has firmly established itself as a preferred destination for call center seat leasing, virtual offices, co-working spaces, and professional office spaces. Its strategic location, skilled workforce, and cost-effective solutions make it an attractive hub for businesses seeking to enhance their operational efficiency and market presence. Whether it's call center operations, virtual addresses, collaborative workspaces, or dedicated offices, the Philippines offers a diverse and dynamic array of options to cater to the diverse needs of modern businesses.
Companies can tap into many opportunities by choosing the Philippines as the ideal destination for these multifaceted business solutions, fostering growth and success in an ever-evolving global market. As the country continues to innovate and cater to the business community's needs, it remains an unrivaled destination for businesses seeking to establish a strong presence in the Asia-Pacific region.
Unleash the power of our meeting rooms, co-working spaces, and virtual offices. Contact us at https://salesrain.com/contact-us/ and get started!
https://salesrain.com/wp-content/uploads/2023/08/Call-Center-Seat-Leasing.png
223
366
salesrainadmin
https://salesrain.com/wp-content/uploads/2017/09/salesrainLogoFinal-main.png
salesrainadmin
2023-08-10 11:10:46
2023-08-10 11:10:46
Philippines: The Ideal Destination for Call Center Seat Leasing, Virtual Offices, Co-working Spaces, Professional Office Space