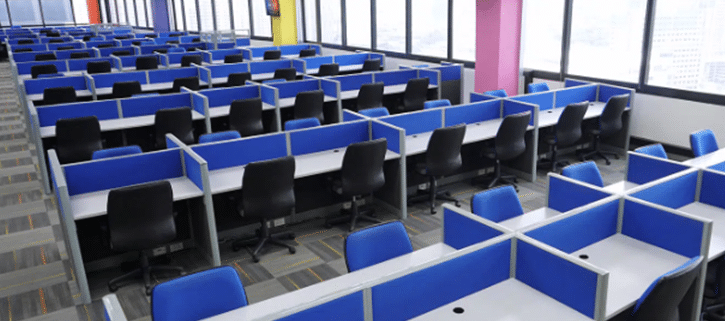 Quezon City, located in the bustling Metro Manila region of the Philippines, has become a thriving hub for businesses of all sizes. Whether you're an entrepreneur or an established company, choosing a suitable office space for rent in Quezon City is crucial for productivity, collaboration, and growth.
This blog will provide valuable tips and recommendations on finding the perfect office space for rent and co-working space in Quezon City, ensuring a seamless and successful workspace selection process.
Determine Your Needs: Start by assessing your specific requirements. Consider factors such as the size of your team, preferred location, budget, and the nature of your business. Clearly defining your needs will help you narrow down the options and find an office space that aligns with your goals.
Research Available Spaces: Conduct thorough research on office spaces for rent and co-working spaces in Quezon City. Utilize online platforms, directories, and real estate websites to explore options. Consider critical details such as location, amenities, lease terms, and pricing. Make a list of potential spaces that match your criteria.
Consider Co-working Spaces: They have gained popularity for their flexibility and community-driven atmosphere. Evaluate the amenities, networking opportunities, and membership plans each space offers. Flexible co-working spaces are ideal for start-ups, companies and small teams seeking a collaborative environment and shared resources.
Evaluate Serviced Offices: Serviced offices provide ready-to-use spaces with all-inclusive amenities and services. Assess the locations, infrastructure, and additional facilities such as meeting rooms, reception services, and IT support. Serviced offices are suitable for businesses that prefer a professional and fully equipped workspace without the hassle of setting up and maintaining their office.
Location and Accessibility: Consider the area of the office space and its accessibility for your team and clients. Opting for a central place in Quezon City, close to transportation hubs and major thoroughfares, can enhance convenience and attract talent. Additionally, assess nearby amenities such as restaurants, cafes, and retail establishments, which can provide comfort and improve the overall work-life balance for your team.
Visit and Assess: Once you have shortlisted a few office spaces, schedule visits to each location by booking a personalized tour. This step allows you to experience the area first-hand, evaluate the ambiance, and assess its suitability for your business. Pay attention to factors such as the layout, lighting, noise levels, and overall comfort. This personal assessment will help you make an informed decision.
Budget Considerations: Office space costs vary depending on location, size, amenities, and lease terms. Have a clear understanding of your budget and evaluate the affordability of each option. Ensure that the chosen space fits comfortably within your budget.
Lease Terms and Flexibility: Carefully review the lease terms and conditions of the office space you are considering. Evaluate the duration of the lease, any renewal options, and the flexibility to expand or downsize your area in the future. Flexibility is essential for growing businesses that anticipate changes in their workspace needs.
Seek Recommendations and Reviews: Consider seeking recommendations from other businesses or professionals with experience in office spaces for rent in Quezon City. Online reviews and testimonials can provide valuable insights into the quality and reliability of the co-working areas you are considering. This feedback can help you make an informed decision and avoid potential pitfalls.
Trust Your Instincts: When selecting an office space, trust your instincts. Consider the overall feel, the professionalism of the management, and the level of comfort and inspiration it provides. Choose a co-working space that resonates with your vision and values, as this will contribute to a positive work environment and the success of your business.
Work. Connect. Thrive. Find your ideal workspace in Quezon City.
Finding the perfect office space for rent or co-working space in Quezon City requires careful consideration of your needs, thorough research, and personal assessments. By following these tips and recommendations, you'll be well on your way to discovering a workspace that fosters productivity, collaboration, and growth for your business in Quezon City's vibrant and dynamic business landscape.
Supercharge your business in our flexible, serviced offices in Makati.
Book your personalized tour now at https://salesrain.com/contact-us/ and ignite your success!
https://salesrain.com/wp-content/uploads/2023/07/image_2023_07_17T11_10_20_178Z.png
463
725
salesrainadmin
https://salesrain.com/wp-content/uploads/2017/09/salesrainLogoFinal-main.png
salesrainadmin
2023-07-17 11:13:28
2023-08-01 05:12:12
Finding the Perfect Office Space for Rent and Co-working Space in Quezon City: Tips and Recommendations