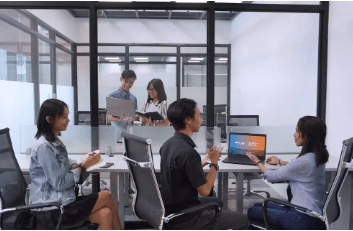 The vibrant city of Cebu, nestled in the heart of the Philippines, has emerged as a hub for co-working spaces and Business Process Outsourcing (BPO) seat leasing. With a flourishing economy and a diverse talent pool, Cebu has become an attractive destination for businesses seeking flexible workspace solutions and cost-effective outsourcing options. In this article, we'll navigate the co-working landscape and BPO seat leasing in Cebu, highlighting the top providers and features that make this market a compelling choice for local and international companies.
The Co-Working Revolution in Cebu
Co-working spaces have taken Cebu by storm, providing professionals with a dynamic and collaborative environment to work, network, and innovate. Whether you're a solo entrepreneur, a startup team, or a remote worker, Cebu's co-working spaces offer diverse amenities and flexible membership plans tailored to different needs.
Top Co-Working Providers in Cebu
Sales Rain: In the bustling city of Cebu, where innovation meets opportunity, Sales Rain emerges as a leading force in the co-working landscape. With a commitment to providing dynamic workspaces designed to foster productivity, collaboration, and growth, Sales Rain has carved a distinct niche in the co-working scene of Cebu. Sales Rain isn't just a co-working space provider; it's a catalyst for success. Whether aiming for productivity, collaboration, or innovation, Sales Rain's co-working spaces in Cebu provide the foundation for your goals to thrive. Elevate your workspace experience with Sales Rain and be a part of a community that embraces growth, creativity, and shared success.

A Space Cebu: Known for its creative vibe, it provides innovative workspaces, event venues, and regular networking events to foster collaboration and inspiration.

Acceler8 Cebu: Bringing a touch of luxury to co-working, Acceler8 offers premium spaces, concierge services, and curated events that cater to entrepreneurs and professionals seeking upscale work environments.
BPO Seat Leasing in Cebu: A Strategic Move
Cebu has also made its mark as a BPO hotspot, offering cost-effective seat leasing solutions for companies looking to establish or expand their operations. With a skilled workforce and modern infrastructure, Cebu provides a competitive edge in outsourcing.
Top BPO Seat Leasing Providers in Cebu
Sales Rain: Cebu's BPO landscape shines even brighter, with Sales Rain as a prominent BPO seat leasing sector player. With a commitment to exceptional services and a strategic approach, Sales Rain is a top choice for businesses seeking BPO seat leasing solutions in Cebu. Sales Rain isn't just a BPO seat leasing provider; it's a partner in your growth journey. With a focus on strategic locations, modern infrastructure, and holistic support, Sales Rain creates an environment where your BPO operations can thrive. Elevate your Cebu BPO experience with Sales Rain and take a step toward operational excellence, efficiency, and success.

BPOSeats.com: Renowned for its customizable and fully equipped seat leasing solutions, BPOSeats.com offers flexible terms, modern facilities, and strategic locations across Cebu.

Seat Leasing Cebu: This provider offers turnkey solutions for BPO companies, encompassing IT infrastructure, recruitment assistance, and various support services.
Features to Look For
When considering co-working spaces or BPO seat leasing in Cebu, keep an eye out for these features:
High-speed internet and modern IT infrastructure

Flexible lease terms and scalable options

Prime locations with easy access to transportation and amenities

Community events, workshops, and networking opportunities

Professional support services, including receptionists, administrative assistance, and IT support
Elevate Your Cebu BPO Journey with Sales Rain
Cebu's co-working and BPO seat leasing scene offers a dual delight for businesses seeking flexibility, cost-effectiveness, and collaboration. Whether you're an entrepreneur aiming to tap into a vibrant community or a company looking to optimize your outsourcing strategy, Cebu's thriving market has something to offer. With top providers and innovative features, co-working spaces in Cebu and BPO seat leasing options pave the way for growth, innovation, and success in the dynamic landscape of the Philippines.
Contact us at https://salesrain.com/contact-us/  to unlock growth, efficiency, and success today!
Discover the power of strategic locations, state-of-the-art infrastructure, and tailored solutions with Sales Rain's BPO seat leasing in Cebu.
https://salesrain.com/wp-content/uploads/2023/10/Cebu-Co-Working-BPO-Seat-Leasing.png
231
353
salesrainadmin
https://salesrain.com/wp-content/uploads/2017/09/salesrainLogoFinal-main.png
salesrainadmin
2023-10-05 12:26:34
2023-10-05 12:27:51
Navigating the Cebu Co-Working & BPO Seat Leasing Market: Top Providers and Features