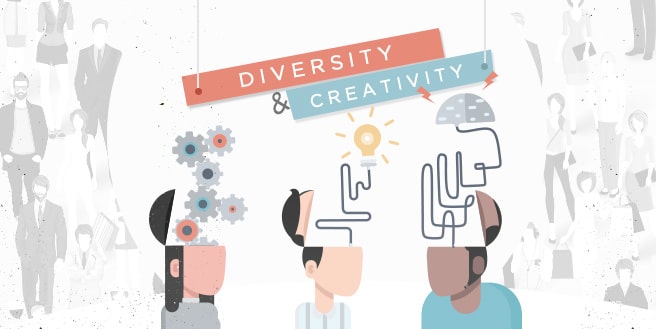 A large majority of today's budding entrepreneurs are setting aside cultural and political differences in the hopes of creating a more diverse team within the workforce. The reason behind this trend? The premise that organizations with a wide variety of members are far more creative than those of teams coming from a similar background.
With several literatures backing up this ideology and the constant encouragement by the public to break down walls, it's not surprising that a lot of companies are looking to diversify their workplace.
Still the question remains, just how much can diversity affect the creativity of one team? How does one strengthen them through leadership and inclusion?
The Different Influences
For us to evaluate just how effective it is in enhancing inventiveness, it's important to know how it influences idea generation and implementation. Viewed as two different scenarios, the diversity of a team dictates just how successful they will be in generating ideas and implementing ideas.
Recent experimental studies have suggested that though heterogeneous team composition seen as an advantage in producing a wider range of original ideas, its benefits ultimately weaken when it's time to decide which among them will be implemented. A meta-analysis conducted on 108 studies and more than 10,100 teams report that the enhanced creativity produced by teams with higher diversity is interrupted by deep-rooted social conflict and decision-making dilemmas that are rarely found in homogenous groups.
Though it follows the creative process of free thinking, openness to failure and mind wandering, it should be immediately followed by convergent thinking and effective project management for it to become actual innovations. It takes more than just diversity to implement a company's wide array of creative ideas.
Strong Leadership
Admittedly, diverse teams are prone to conflicts, and these arguments can only be mitigated if they are lead effectively. It's not rocket science that strong leadership is a fundamental resource for organizations across industries.
When members set aside their own agendas to corroborate with others for the common benefit of the project, the natural tension between wanting to get ahead of prospect competition  and needing to get along with everyone is articulated.
It's important for homogenous teams to learn how to empathize with their coworkers and to see things from other perspectives. Only when they have learned to manage their own conscious and unconscious biases will they be able to agree on one thing.
Inclusivity and Knowledge Sharing Culture
"Diversity is being invited to the party. Inclusion is being asked to dance" diversity advocate, Verña Myers said. In order for leaders and organizations to truly stick with practicing diversity, it's important that everyone feels they are included, that their voices matter.
Hence, creating an open knowledge sharing culture is present within the team to truly enhance creativity. Everyone should be encouraged to speak up and leaders need to create an environment wherein it's safe to share novel ideas. Implementing feedback and sharing credit for team success also aids in promoting inclusivity.
Diversity: A Place for Everyone
Though skeptics would say that diversity may bring more problems and complications than creativity, the rising movement of coworking spaces is proof that diversity and inclusivity could create great results for everyone participating.
Well-known for its diverse community, these shared offices are attracting startups, entrepreneurs and even large corporations across several industries for the authentic networking it provides to its members. With a culture that promotes inclusivity and interdisciplinary collaborations, coworking allows professionals to experience what its like to work when the walls separating us from one another is diminished.
Creativity isn't the only thing that businesses can unlock when they create diverse representation and inclusivity in their workforce. Though complicated and intricate, the process is worth it when it leads the team to sustainable growth.
Produce equal opportunities for every member of your team and talk to us today about coworking spaces!
https://salesrain.com/wp-content/uploads/2018/05/diversity-and-creativity.jpg
329
656
salesrainadmin
https://salesrain.com/wp-content/uploads/2017/09/salesrainLogoFinal-main.png
salesrainadmin
2018-06-05 03:25:14
2018-06-05 03:25:14
Diversity: How Individual Differences Produce Creativity