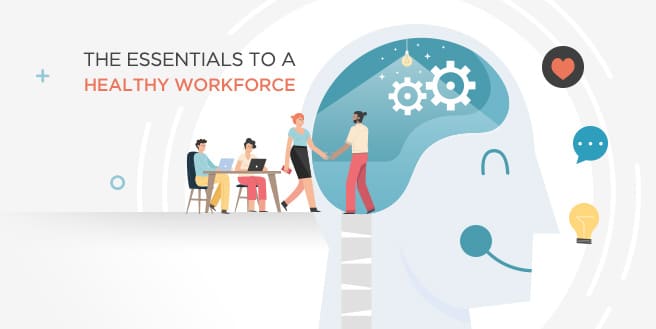 The physical and psychological health of today's workforce is endangered as workplace stress creates an even higher toll on employees overall well-being. Affecting productivity and driving up voluntary turnover, the phenomenon has cost US employers nearly $200 billion yearly in healthcare coverage. And as a response, several companies come up with their own solution to alleviate the pressing predicament. From encouraging sleep and meditation through nap pods down to healthy snack bars, quirky perks can be found in almost every modern workplace today.
Yet amidst all of the clout and other activity going on, we have easily overlooked the fundamental factor that contributes to workplace stress: work environment – starting with the work itself. For years, researchers have advertised the benefits of better work practices for performance and productivity, enumerating two critical contributors to employee engagement: job control and social support. Moreover, it helps further enhance health – potentially reducing healthcare costs.
Companies from almost any industry can make use of the aforementioned elements to promote physical and mental well-being without breaking the bank.
Job Control
Research dating back decades have revealed that the autonomy employees have over what they do and how they do it plays a significant role on their physical health. Recent studies have also indicated that having limited job control creates ill effects that extend beyond physiological well-being, it actually imposes burden on a person's mental health. Organizations can prevent these workforce dangers by creating positions or roles that have more fluidity and autonomy or by eradicating micromanagement.
Physical and Mental Health
British epidemiologist Michael Marmot and his team lead one of the most notable studies in the area popularly known as the Whitehall Studies. Together, they discovered that the higher an employee's rank is, the lower their morality is to cardiovascular diseases. As it turns out, differences in job control correlating to job ranks is most accountable for the said phenomenon. Higher-ranked employees who enjoyed more autonomy over their jobs and had more discretion over what they do despite having greater demands.
Additional data connected work stress to the presence of metabolic syndromes – clusters of risk factors that predict the likelihood of getting heart diseases and type 2 diabetes. Employees who go through chronic stress at work are more likely to experience metabolic syndromes compared to those who don't undergo work stress.
A separate study have also discovered a correlation between measures of job control and healthy. People who had a higher level of power over task control in reorganization processes had less illness symptoms for 11 out of 12 health indicators, less absences and less experiences of depression.
Control Over Workforce Surroundings
Control over work is just one part of the broad – and growing – culture of autonomy. Architectural and design firm Gensler said in its 2013 Workplace Survey that another form of liberation that creates not just an increased happiness, but as well as elevated employee motivation and performance, is the power of choice over their surroundings. One example of this is Facebook's headquarters; their employees can tailor the layout, height, and configuration of their desks based on their respective preferences. Teams can also create whatever plan best supports their project by moving their desks.
Admittedly this element isn't easy to achieve but there are ways for companies to offer their employees a wider range of options like providing them with passes to coworking spaces. These unorthodox offices offer its member different work environments depending on their needs or personal preferences. It's a cost-efficient way of giving your team more choices on how they work. They can share desks with other professionals or get a private office of their own.
With so much light being put on the health of one's workforce, we're easily distracted by what we think is important – forgetting that there are certain essentials needed to be covered first.
Talk to us today and we can help you elevate your teams overall well-being through autonomy.
https://salesrain.com/wp-content/uploads/2019/02/The-Essentials-To-A-Healthy-Workforce-The-Overlooked-Fundamentals.jpg
329
656
salesrainadmin
https://salesrain.com/wp-content/uploads/2017/09/salesrainLogoFinal-main.png
salesrainadmin
2020-10-23 12:14:48
2020-11-10 11:32:33
The Essentials To a Healthy Workforce: The Overlooked Fundamentals