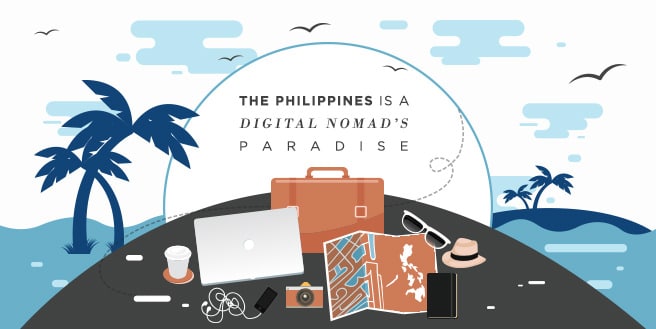 Twenty years ago, Hitachi executive Tsugio Makimoto envisioned a revolution. One wherein technology would change humankind's way of working. No more commuting or dull cubicles. The high speed wireless networks of the future will help millions of employees turn their dream of following their wanderlust into reality.
His vision later appeared in a book he wrote together with David Manners during the year of 1997 entitled Digtial Nomad but the public turned a blind eye to it. Years later, the concept resurfaces in a 2007 best-selling book The 4-Hour Workweek: Escape 9-5, Live Anywhere, and Join the New Rich. American entrepreneur and author Tim Ferriss gave the world a sneak peek of globetrotting as they do their jobs over the internet.
Neither of them ever foresaw the impact modern technology could bring to our daily lives nor did they ever predict the rise of a new complex industry that will change what work is for us
A Brand New Workplace
An entire industry was born out of the booming sharing-economy. Originating from the remote workers of today's labor force, digital nomads are this generation's lucky freelancers who have made the world their office.
It has distinguished itself from traditional telecommuters by combining remote working and travelling – a dream that most Millenial's have. It's the ideal lifestyle for those who want to carry on with their usual business while on vacation.
In the US, 43% of employed Americans have experienced remote working last year at least some of the time according to the Gallup post published last February 2017. In addition to this, both the length of time working remotely and that of employees working full time continues to expand every year from 39% during the year 2012.
Its burgeoning industry had made easier for everyone to work remotely from the streets of Greece down to the nearby café in your area. Since its rise to fame, shared offices that allow professionals to rent work areas for temporary use made its rounds around the world. The most famous one being coworking spaces with over 13,800 providers globally.
Digital nomads can now easily transfer from one country to another without sacrificing their efficiency and productivity.
Philippines: A Nomad's Paradise
Though often seen as a tourist destination, the Philippines have become one of the most sought after countries by international enterprises and is now considered as a digital nomad's paradise.
Its booming economy allowed them to take over Mumbai's position as the second top ranking BPO destination in the world. The local workforce composed of literate young professionals and their competitive labor rates cater to the numerous countries who plan on establishing their offshore sites. Several universities and schools encourage developing skills needed to be part of a competitive global labor force.
Besides the general considerations in terms of doing business in the Philippines, their lifestyle and culture also play an important role that favors the country as a digital nomad paradise.
Foreigners live comfortably in the nooks and crannies of the archipelago due to the hospitable nature of Filipinos, be it in terms of business or leisure. Locals are quick to give out a hand to those in need. No need to worry about getting lost in translation, most of them are good English speakers.
Wanderers would enjoy the Philippine shores and its breathtaking landscapes. Several world-class beaches can even be found 4 hours away from the bustling Metro Manila. Quick getaways are possible because of the several convenient ways to get around.
And when it's time to start grinding, remote workers won't have to worry about where to stay. The country's capital alone is home to several coworking spaces that allows you to avail a membership or simply a dedicated desk that you can call your own for a few months. Most providers offer flexible rates and can accommodate a solo member and a whole team of professionals.
The Philippines is most certainly a country where digital nomads continuously thrive.
https://salesrain.com/wp-content/uploads/2018/02/The-Philippines-is-a-Digital-Nomad's-Paradise.jpg
329
656
salesrainadmin
https://salesrain.com/wp-content/uploads/2017/09/salesrainLogoFinal-main.png
salesrainadmin
2018-02-21 15:54:32
2018-02-21 15:54:32
The Philippines is Considered as a Digital Nomad's Paradise