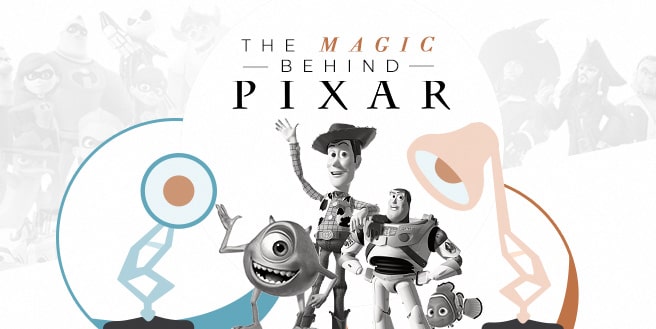 We stood by Woody and his friends as Andy grew. We helped Marlin and Dory swim to Sydney in search of Nemo, only to help them again – Marlin and Nemo, in this case – as they looked for Dory. We had our hearts broken as we witnessed Sully and Mike say goodbye to their little human, Boo.
For most of our childhood, Pixar told us stories about friendship and family. They taught us the power of pure imagination. Their technological breakthrough in computer animation and art in general made our younger years even more special.
Contrary to popular belief, their success did not come from a single idea but is rather the result of fresh ideas put together by a group of talented individuals and their collective creativity. Co-founder, Ed Catmull, discussed the workplace culture of Pixar in an article published last September 2008 in Harvard Business Review.
Collective Creativity
Catmull believes that most people have the wrong idea when it comes to creativity. He says that they oftentimes believe that it is a solo act when in fact, creativity comes from ideas that a number of people put together. To him, finding talented people isn't the problem; it's actually finding great ideas.
With an industry that demands new and fresh content, originality is valued. Several movie businesses choose to reproduce the success of other movies, tweaking specific details to make their own rehashed materials, instead of creating new concepts. He says that the natural instinct of executives to minimize risks hinders unique ideas from coming to life – a trait he and the rest of the company inherently avoids.
He adds that their success wasn't pure luck, it was the result of their undaunted behavior towards failure and their ability to manage recovery from such defeat. He also discussed the importance of community, further explaining that creating an environment that fosters trusting relationship among talented people and releases everyone's collective creativity engenders a vibrant community within the workplace.
Taking Risks
Pixar's philosophy is that they look for talented people, bet on the ideas they generate, give them freedom, as well as provide an environment that encourages honest feedback. Catmull shares that they setup teams to generate ideas that has potential to become great films and assess whether the relationship among them is healthy, as well as whether they are making progress or not. And whenever issues arise, they provide every possible support they can give without compromising their authority. Moreover, Pixar takes pride in the community they've created. The people from all levels of their studio support one another. They openly help each other to ensure high quality output. "It's one for all, all for one" for him and the rest of the company.
Making Magic
Catmull shares that Walt Disney believed in the ability of companies who invest in reinvention and the combination of technology and art to create magic. Chief Creative Officer John Lasseter even coined the saying "Technology inspires art and art challenges the technology" – a way of life that Pixar has established and continues to reinforce by giving everyone the liberty to communicate with anyone and developing a workplace environment wherein everyone is safe to express their ideas.
Ed and the rest of his team nurtured a culture that encourages learning, growth, creative freedom and innovation, all of which reinforced a more humanized way of working and supported collective creativity. The norm that Pixar have established inspired millions of executives to move towards a new workplace environment that can greatly benefit both companies and employees by adhering to certain principles or by revamping their physical offices. Employees themselves have invested in the said culture by trying out coworking spaces or shared office spaces.
The approaches Ed strengthened changed the way Pixar made animated films and gave more depth to workspace culture – spreading their magic to the world.
https://salesrain.com/wp-content/uploads/2017/11/themagicbehindpixar.jpg
329
656
salesrainadmin
https://salesrain.com/wp-content/uploads/2017/09/salesrainLogoFinal-main.png
salesrainadmin
2017-11-14 02:36:48
2018-01-17 08:20:48
The Magic Behind Pixar and its Collective Creativity