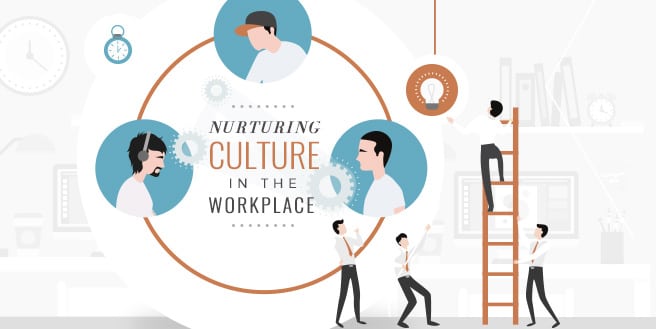 The word "culture" have been thrown around aimlessly over the past decade. It was Merriam Webster's most popular word during the year 2015. All the while, companies use this buzzword to attract more talent and to appeal as humanly as possible to its customers. They talk about their space and the cool amenities they have; how these ping pong tables, brightly colored walls and stylish furniture highlight the culture of their company. And with numerous coworking spaces claiming the same thing again and again, the distinction of culture from one company to another gets blurry.
But what is culture anyway? Is it working in a well-lit room with walls covered with inspirational quotes?
Defining Culture
Culture is not the quirky features these communal areas have. Yet at the same time, it is. Defining it can be quite difficult, it's somewhat an indefinite word. There are those who define it as "what happens when nobody is looking" and there are those who see it as a multisensory experience. Successfully nurturing culture involves complex set of behaviors, values, systems and rituals that define an organization. It can be seen through a team's enthusiasm, behavior and their workplace itself. The culture of an organization is what sets them apart from other companies and plays a significant role in the overall success of their business.
Why It's Important
A 2010 survey conducted by Time magazine have said that employee satisfaction boosts productivity and creativity. The study also reported that engaged and satisfied members of a team drive innovation and success. In addition to this, several research have said that overall happiness and satisfaction of a person is greatly affected by the culture embedded in their respective workplaces. The stronger the culture, the happier and more productive people become, which in return, contributes to the identity and value of your organization. And as the global economy grows more competitive over time, understanding how a company can improve their employee experience in order to successfully attract and retain talented employees is now a top priority.
Nurturing Culture
Well-known enterprises like Google, Facebook, Twitter and Zappos have remained strong in nurturing culture within their teams. Each of the aforementioned company offer perks and benefits that may be similar to one another but are different on their own. And as recent years have passed, more and more companies have followed suite.
Some encourage individualism and team work. They embrace the diversity that everyone brings to the table with their ideas and approaches in solving problems. Executives believe that bringing a person's "whole self" to work can inspire creativity and can help shape innovation in the company. It's also important to foster communication among the members of your team, this gives lee collaborations and discussions the leeway to flow freely within your workspace. In addition to this, it helps create a kind of healthy competition that builds goals and a support system.
With so many kinds of culture going around, it's important to remember that the perfect culture does not exist in one single rubric. Each of them work differently from one another but in order to create one that would help you in the future, a strong and consistent set of values is needed.
https://salesrain.com/wp-content/uploads/2017/11/nurturingculture.jpg
329
656
salesrainadmin
https://salesrain.com/wp-content/uploads/2017/09/salesrainLogoFinal-main.png
salesrainadmin
2021-07-07 04:36:12
2021-09-13 06:04:28
Importance of Successfully Nurturing Culture in the Workplace