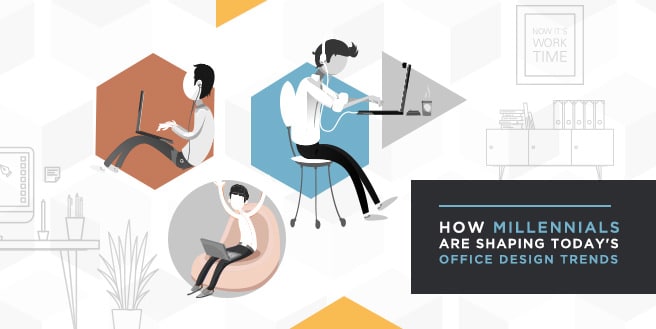 The rumors seem to be true, the traditional workplace is slowly fading – making way for unconventional spaces such as coworking spaces and serviced offices.
The emerging trends and today's technology seemed to be the reason why more and more organizations are turning their backs against traditional offices. Experts have stated several studies that highlight the deterioration of conventional offices due to the pressure of rent escalations and the fluctuating office space density per worker.
There's also a rising demand for balance between work and life coming from today's workforce. A survey conducted among more than 2,000 adults during the year 2015 have reported that 38% of employees missed live events because of a bad work-life balance.
Amongst all the aforementioned factors, there is one major reason that drives and pushes workspaces to innovation – the Millennials.
The Millennial Generation
By the year 2020, Millennials would take up to one third of the global labor force and by the year 2025, 75% of the global labor force will come from this generation.
Born from between 1980 and 2000, the Millennials are arguably the most tech savvy generation in history and though highly educated, they face debt and global competition for the best jobs. They entered the market with fast-changing business cycles and increasing demand for new skill.
Despite of this, a survey conducted by Manpower Group have said that two-thirds of their participants are optimistic about their immediate job prospect. And though they are being shaped by the world of labor, they are redefining the employer-employee relationship. Moreover, they have made a big impact to today's traditional workplace and office design trends.
Trends Driven By Millennials
Over the past year, we saw several companies take quite the unconventional path in terms of office space. The world marveled at the flexibility and creativity coworking spaces brought to the world with its alternative work areas and synergistic layout. These communal areas allow employees to choose where and when they work, a variety of desks and workspaces are made readily available so that they have the freedom to choose what suits them best.
More and more businesses are adapting designs such as dynamic spaces and homestyle comfort design to cater both the needs of its operations and their employees.
Majority of the demand for unconventional work areas were driven by the Millennials' knack for atypical offices. They favor flexible furniture over mundane cubicles for it allows them to collaborate more with their colleagues. Moreover, they find flexible work arrangements to be more likely conducive to productivity, innovation and engagement. Experts' call this as 'work casual' integrated into the physical designs of offices.
Though constantly undergoing advancements, Millennials know that the technology is here to stay. Hence, designers and architects are incorporating technology into modern office furniture such as docking stations, cable management systems and easy to use power points.
With today's technology and the increasing demand for a healthier environment, work is changing. It always had and always will, yet in the end, each and every one of us – no matter what generation – simply want to work in a space that somehow reflects our personality and allows us to be more productive.
To Millennials, there are other far more important things than just the paycheck. Hence, they are demanding for a flexible and well-appointed workplace.
Think your office already has what it takes to attract Millennials? If not, we'll show you the perfect workspace for the young generation!
https://salesrain.com/wp-content/uploads/2018/02/How-Millennials-are-Shaping-Todays-Office-Design-Trends.jpg
329
656
salesrainadmin
https://salesrain.com/wp-content/uploads/2017/09/salesrainLogoFinal-main.png
salesrainadmin
2021-07-23 09:05:45
2021-09-13 06:05:17
Millennials are Shaping Today's Office Design Trends