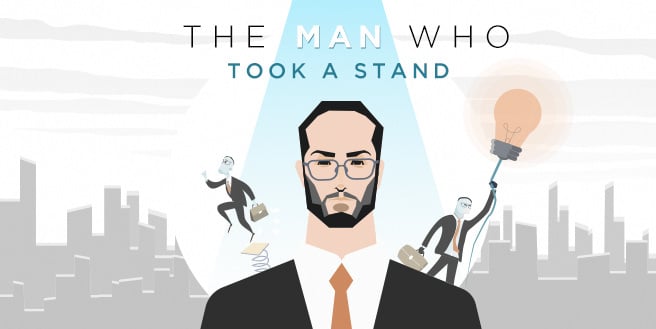 Senior editor of Slate and New York magazine contributor, Dan Kois took quite an interest in a certain study on the effects of prolonged sitting that claimed people who sat down for more than 11 hours a day is 40 percent more likely to die in the next three years.
After reading an affluent number of research, he became convinced that sitting around all day is the worst thing he can do to his body – similar to how smoking increases his chances of dying earlier. He realized that by staying sedentary, he eliminates the many benefits his regular exercise provides.
As he observed that more people are trying to incorporate active habits into their normal workday by using standing desks and even treadmill desks, he thought that maybe it's time he stopped. He ponders that if it really is bad for his health then maybe it's only appropriate that he gives it up – completely.
The Experiment
Kois decided to spend the whole month of April 2014, standing. His only exceptions being when he's driving – but he would try his best to take the train whenever he can – when nature calls, when he's putting his shoes on and when he'd go to bed. He prepared himself insoles, anti-fatigue mats and transformed his office and home desks into standing workstations. Strapping on a fitness tracker, he plants his feet to the ground during the first day of April.
A few days in, he observes a significant change in his upper body; the tension and pain he feels in his shoulder from hunching over faded away. In addition to this, he seemed to have lost a couple of pounds and have become legitimately more productive. On the flip side, he couldn't work the rest of the night. As the days go by, he felt more tired and sore. The pain he started to feel in his calves only seemed to go worst as the weeks go by. He started to feel spasms that would last for almost half an hour as he lied in bed at night and spent his following mornings wishing only to lie down for a few more hours.
By the 22nd of April, Kois went the extra mile to ask for the opinion of scientists on which of the two is more harmful.
What Experts Say: Avoid Prolonged Sitting and Standing
Bioengineering professor Dr. April Chambers of the University of Pittsburgh says that science has known that standing all the time is harmful to us longer than we've known about prolonged sitting. Chambers has conducted studies on people who are on their feet all day at work; she adds that these individuals have no other choice because their occupations require long hours of standing. Several doctors and scientist have told Kois that finding a balance between the two is the key to a healthier lifestyle. Yet Chambers admit that no one seems to have identified how much standing and sitting is needed to achieve the balance.
Taking Turns
Kois said that most of the scientists he spoke to talked about sit-stand tools fondly. Some have said that they utilize alarms and other apps to remind them to stand up for at least ten minutes every hour. He also heard several scientists say that they stand for meetings or phone calls.
Experts from the field of interior design and architecture are also taking this into consideration. Certain offices are either allowing their employees to have standing desks or permitting them to have ample time to take a walk during their work day. The widely popular modern offices such as coworking spaces have open layouts and a variety of work areas that allows its members to switch from sitting down to standing up. It gives them the freedom to go on walks whenever they like. In addition to this, several flexible workspace providers have recreational rooms such as game rooms while others even have their own gyms.
At the end of his article, on the aforementioned experiment, Kois discussed the implications of prolonged sitting that he never would have seen had he not tried to stand up for a month. He concluded that maybe reminding ourselves to stand up for at least ten minutes of every hour isn't as arduous as giving up the idea of sitting down for a month.
https://salesrain.com/wp-content/uploads/2018/01/the-man-who-took-a-stand.jpg
329
656
salesrainadmin
https://salesrain.com/wp-content/uploads/2017/09/salesrainLogoFinal-main.png
salesrainadmin
2018-01-17 12:35:48
2018-01-17 12:49:40
The Man Who Took A Stand, Avoiding Prolonged Sitting