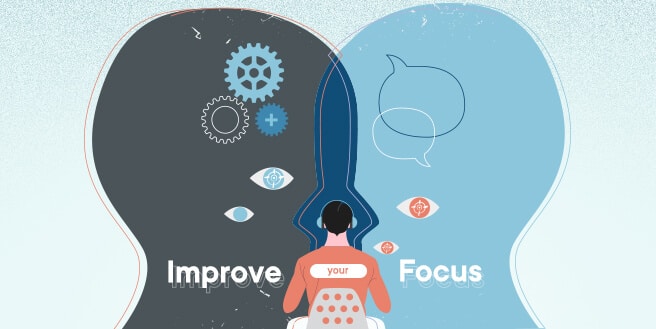 Read the following scenario below and tell us if it sounds familiar.
On a normal morning at work, your browser looks like this: work email on the left portion of your screen and a bunch of Word documents for other projects on the right side. There's another set of browsers opened with several tabs meant for different tasks and activities – and there's also your phone, nagging you with calls.
Hits too close to home? If what you read above is something that you see almost every single every day, then it means that your attention is divided among several things in one day. Don't worry though, it's totally normal, normal in a sense that it happens to almost everyone's working today. With so much on our plate, we have the tendency to multitask, switching from one activity to another constantly in the hopes of getting more done. The only problem is that because of having so many activities right in front of us, our brains are having a hard time directing our attention into one activity.
If you've been struggling to achieve deep work, whether you're doing it in a shared office like a coworking space or an enclosed room like a private office, you may be experiencing attention residue. The term sounds overwhelming but it's a really simple phenomenon; it's what happens when you constantly redirect your focus from one thing to another. Those quick checks can reduce your brain's cognitive capacity and costs you a seemingly-trivial but not really trivial amount of time before it clears up.
For example, you were finishing up a new campaign for you and your team when suddenly, you hear the ping of an email notification. You drop whatever it was that you were doing, accommodate the mail and then wrestle with your brain for a minute or two to return to the campaign from earlier. This kind of habit prevents you from doing deep work sessions, the kind of work wherein you are consistently focused on a complex and pretty demanding activity.
We can tell what you're thinking: though you really want to do this, you just don't have the time and there's really a long list of things to do. Harnessing this is not easy but it's worth trying. It would take a lot of your willpower and habit formation but if done right, you'll be able to improve the quality of the work you make in complex tasks.
So in order to do this is, you need to actually work deeply. A common fallback you'd try is to wait till you have ample free time to concentrate. Like we've said earlier, you need to learn to gather enough willpower to ensure that you'll integrate deep work into your professional life despite of your hectic schedule. Create blocks wherein you can sit down and work consistently without any sort of interruption or distractions.
You also need to embrace boredom. Our habit to scroll through our phones and check emails comes from our brain's craving for stimuli so, it's important for you to learn how to grit your teeth through it. Bathe yourself in boredom and you'll be able to train your brain to excelling in concentration soon enough.
Luckily, there are certain facilities out in the market ready to help you increase concentration. Sales Rain alongside other serviced office providers carry enclosed private offices that assure you acoustical work. If you're someone who needs a place that can help you have better deep work sessions, Sales Rain can easily help you with that. Not to mention that they also offer coworking spaces in case you come across the need for a place that can cater collaborative work.
Distractions in the workplace is something that we really can't avoid but there's always something that we can do it about. Think of it this way, the more that you are capable of concentrating your superpower into one task, the more you are capable of producing great quality projects.
Let Sales Rain's efficient offices assist you in creating high-quality services and products!
https://salesrain.com/wp-content/uploads/2019/04/having-a-hard-time-maintaining-attention-improve-your-focus.jpg
329
656
salesrainadmin
https://salesrain.com/wp-content/uploads/2017/09/salesrainLogoFinal-main.png
salesrainadmin
2019-11-01 05:14:05
2019-11-01 07:28:06
Maintaining and Improving Your Focus with Deep Work