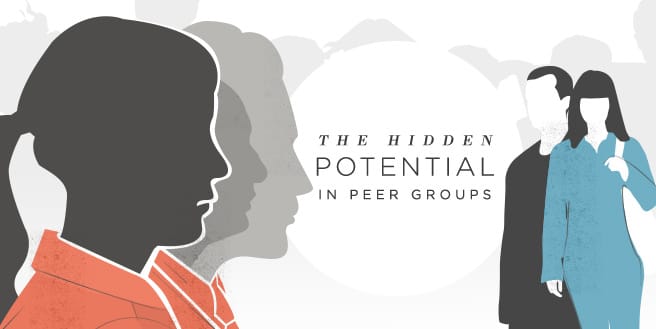 Psychologists cannot stress it enough, but just so that we remember; other people's thoughts and behaviors are powerful enough to influence us. We're all humans after all, so it's only natural for us to be affected by external factors such as peer groups. The people whom we surround ourselves will affect your overall potential and this is not just a mere speculation.
Social Scientists have said that a child's economic mobility – and even the amount of opportunities they are bound to receive – is largely governed by the country they grew up in. Kids coming from communities that produce low income are less likely to have the potential of earning higher than their parents compared to those of their peers who descend from affluent neighbor hoods – proof that sometimes, it's just hard to break out of our surroundings.
Even in groups of friends, individuals tend to pick up one another's behaviors and even living style. The more we spend time with them, the more we use similar phrases or words as we speak. It even comes to a point wherein we alter each other's clothing choices.
American entrepreneur, author and motivational speaker Jim Rohn says that we are the average of the five people we spend most of our time with. Whenever we surround ourselves with high achieving individuals with good characters, there's a high chance that we become like them yet at the same time, those with sub-par qualities can bring upon us negative habits such as poor outlook in life.
Life coach and philanthropist Tony Robbins add that everything that we allow into our life – as well as every action we take reflects on who we are. Furthermore, he advises that we associate ourselves with people who carry the same high standards as we do – possibly leading to a higher quality of life.
The prospective opportunities that peer groups can bring did not go unnoticed by the leaders of today's business industry. Hence, it came as no surprise when the greater community started coming up with ways to turn the traditional office as a place for business to a microcosm of a society that is connected, commercially viable and collectively responsible.
Peer Groups and Interconnectedness
Inspired by the idea of American urban sociologist Ray Oldenburg widely known as "third places" or the concept of building informal spaces meant for public gatherings that can contribute to a functioning civil society, the pioneers of the well-acclaimed shared offices called coworking spaces have placed great importance in vibrant internal communities among its members.
Founders of the movement saw the right set of circumstances to lead the market to a near-future wherein each and every one of us is given the equal opportunity to be part of something greater than our profession.
With the directive of supporting freelancers that connect small businesses, providers continuously shape their respective communities through engaging events and activities. Some are also able to utilize today's online tools to leverage their interconnectedness.
Coworking became an avenue for professionals to meet like-minded entrepreneurs and build peer groups around them, to share experiences, advices and tools that aid success in business with one another. It gives them the advantage of having access to a wealth of information and resources. More than that, they get the support and inspiration that fuels their motivation to keep on doing what they're doing regardless of the failures and hindrances they go through.
Former Yahoo director Tim Sanders once said that one's network is their net worth. Whenever we surround ourselves with good people who strive to become both a better professional and person, their positive energy becomes contagious.
We become motivated to always aim for excellence, no matter what it is that we are going. These kinds of peers will surely help us grow into the best version of ourselves and would teach us to become more in-love with life.
Ready to see the greatest people you could ever meet? Talk to us today and we'll introduce you to a bunch of wonderful peer groups!
https://salesrain.com/wp-content/uploads/2018/03/hidden-potential-in-peer-groups.jpg
329
656
salesrainadmin
https://salesrain.com/wp-content/uploads/2017/09/salesrainLogoFinal-main.png
salesrainadmin
2018-03-22 04:06:17
2023-08-11 12:40:33
The Hidden Potential in Peer Groups and Interconnectedness