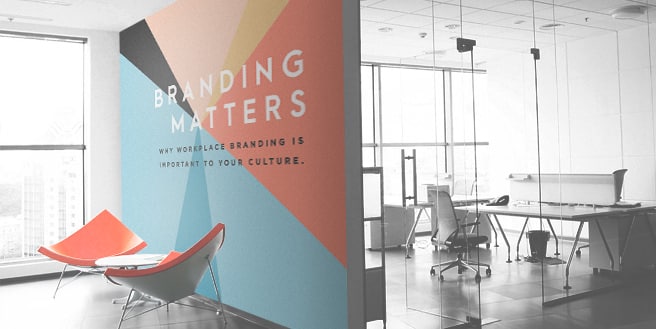 We've heard it all before; branding matters – and it's not just in terms of selling your products. Highlighting the unique points of your very own brand through your office creates a brand new experience for both of your clients and employees.
A well curated workplace branding infuses an office with a much deeper meaning, gives out a warm welcome to visitors and increases employee engagement, commitment and productivity. Though despite of this, several organizations remain to settle to adding the newest logo in the lobby wall.
Executive Vice President of JLL's brand experience team, Big Red Rooster, Aaron Spiess says that it's been a common knowledge among retailers that great branding plays a big role in sparking a shopper's interest and loyalty for it gives them a better grasp of the identity of an organization. Forward thinking companies are applying the same principle to their respective headquarters, seeing that potential customers aren't the only ones affected by compelling branding of a physical environment – thoughtfully designed workplaces also have the capability to excite and engage employees.
Effective Workplace Branding
The reality is this, even those with the best branding are often not thoroughly understood by its own members. A recent Gallup poll supported this claim by stating that only 41 percent of employees actually know what differentiates their brand amongst its competitors. And 24 percent vaguely knew what their company stood for.
Speiss adds that too many workers are disconnected from the brands they actually represent. Having a physical location that allows teams to experience it first-hand can help alleviate this issue.
And this is not just to have better brand ambassadors. Professionals who are immersed in an environment that is unique to their employers, they perceive a deeper sense of pride in being part of the team. But this isn't the norm despite of having a demand for better engagement from their workplace. The aforementioned factor is becoming a valuable consideration among job-seeking Millennials who aren't just looking for modern offices – they are seeking for a place that's unique and meaningful.
First Impressions and Beyond
A great looking lobby is just the start of having an effective brand experience. It should be carried throughout the workplace through appropriate color palette, graphics as well as the layout. Designers can bring life to corporate culture from the lobby down to the huddle spaces in the back.
But before even jumping to interior decorations, startups who are about to acquire their very first office should be formulating their branding before choosing a space to lease. If taken into consideration upon site selection, you can now visualize the perfect workplace for your team.
One would assume that only established companies who fully own their offices are the only ones who can actually do this. But in reality, startups and even freelance professionals can choose workspaces that matches their branding. All it takes is to search for the perfect coworking space that echoes what you and your business stand for. From the colors, the workstations down to its community, these budding entrepreneurs can easily choose from the wide variety of providers in the market. Startups can settle for a private office and customize it the way they want to while freelancers can choose from several work areas that best fit them.
Slowly but surely, organizations around the world are now understanding the value of branding in their workspaces. Soon enough, organizations and designers will work together to craft an experience with meaning and purpose.
Create an immersive brand experience with our private offices and set up a date with us today!
https://salesrain.com/wp-content/uploads/2018/05/branding-matters.jpg
329
656
salesrainadmin
https://salesrain.com/wp-content/uploads/2017/09/salesrainLogoFinal-main.png
salesrainadmin
2021-05-06 07:49:15
2021-06-01 08:56:20
Branding Matters: Why Workplace Branding is Important to your Culture