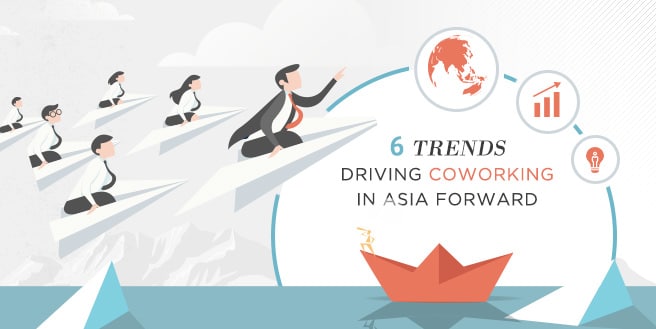 Commercial real estate services company Cushman & Wakefield published a report early last February discussing the current trends that are powering coworking's growth in Asia Pacific.
In Asian countries, the shared workspaces market has undergone tremendous changes over the past couple of years and even back during the year 2015, the pace that the region was going was astounding.
Executive Producer of the coworking conference series Global Coworking Unconference Conference, Liz Alam, said in the first GCUC in China that at the rate that the movement is going in Asia, China specifically, has made coworking in the US look as if it's in a stand still.
According to the aforementioned research, memberships are growing at a high rate than its deemed global average of 40%. Operators have become significant demand stimulus across the region as the industry leases more than 8 million square feet within the span of the last two years.
The latest study entitled "Asia Pacific Coworking Trends: Space is Now a Business Solution" cited 6 major key drivers in the APAC market.
Much similar to the trends in the US and Europe, large corporations in Asia are now taking over coworking spaces in the aim of attracting and retaining top talent as well as furthering their business growth.
The growing demand from these big players plays a significant role in the expansion of the movement in several Asian cities over the last two years. The memberships acquired by enterprise clients have doubled over the last 12 months. In addition to this, SMEs are also utilizing the model in developing their business.
2.) Becoming A Staple Among Developers
Developers are also starting to see the value of offering versatile spaces. Landlords and other real estate providers are embracing the movement by partnering with existing developers and giving them access to outdoor event spaces.
Though traditionally, developers would simply invest in spaces and would let coworking operators provide the design as well as technology, there are certain ones who are going down the path on their own by creating their very own brands.
Around the world, lifespan of known companies has been deteriorating over the years. The aforementioned report said that only 12% of companies have survived between the years of 1955 and 2016. Creative destruction and several market disruptions have driven them out of business due to the scarcity of dynamism and innovation that are needed to survive today's hypercompetitive global.
And because of this, tech leaders and other conglomerates are either partnering with providers or creating their own in-house shared offices, recognizing its ability to foster innovation.
Coworking spaces allows them to work with talented developers, budding entrepreneurs, startups and other creative professionals that can aid them in building and improving business solutions.
Despite Japan's traditional culture of running after corporate employment, things seem to be undergoing significant changes. The report predicts that the year 2018 would transform the coworking landscape in Tokyo. Japanese companies are reportedly recognizing the latent demand for shared offices.
Well-known provider WeWork has also started to enter the aforementioned market, sparking additional competition to developing operators in Asian countries.
5.) Mergers and Acquisitions
One significant factor that's paving the road to expansion is the merging and acquisitions of several coworking operators around the world. Cushman & Wakefield says that the pioneers of the movement are uniting as well as scouting for new investors in the aim of strengthening their foothold in growing markets. The said strategy allows them to learn from well-developed models and curate brand new services.
At the same time, it's also useful in fending off competition. Local providers are struggling to stay relevant as established operators push for aggressive expansions and is in need of backing from bigger brands. Bigger brands, on the other hand, can greatly benefit from smaller players as they can aid in guaranteeing a successful entry into a new market.
Cushman & Wakefield adds that we can expect mergers and acquisition deals to take off this year as the competition within the region heats up.
6.) Asian Countries, A New Battleground
SEA is home to a few of the world's most versatile and fastest growing economies. The respective government support and funding that's powering the development of startups and incubators in the regions has accordingly accelerated the evolution of coworking spaces.
A private equity firm in Vietnam has invested in creating a new share workspace; Indonesia's Rework has received funding from ATM Capital and Jakarta's EV Hive has joined forces with Clapham Collective. In addition to this, corporates with much influence in Bengaluru, Mumbai, Gurgaon, Hyderabad and Manila have started occupying coworking spaces.
No longer just an alternative, the movement in Asian countries has proven itself to be a business solution for companies of all sizes from across all industries. It has successfully revolutionized the real estate market with its benefits and wide array of services.
Experience what's it like to work in Asia and join our very first coworking space.
https://salesrain.com/wp-content/uploads/2018/04/6-trends-driving.jpg
329
656
salesrainadmin
https://salesrain.com/wp-content/uploads/2017/09/salesrainLogoFinal-main.png
salesrainadmin
2018-04-04 04:21:23
2018-04-04 04:21:23
6 Trends Driving Coworking Spaces in Asian Countries Forward