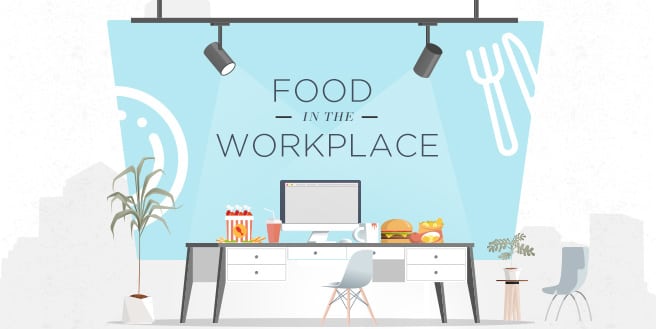 Coworking spaces nowadays put much needed emphasis on the distinctive amenities that they have — what makes them different from the hundreds of other providers. But other than aesthetically pleasing furniture and other recreational features such as pool tables and karaoke rooms, there's another amenity that could help strengthen the sense of community of your space and could help increase productivity of your members.
Online news source AllWork.Space conducted a survey among several providers, operators, and community managers last year regarding the top favorite workplace features. And among the sea of vision boards, wellness rooms and other personal care services, food was found on top of its list.
Contributor Robert Kropp notes that serving good food is one excellent and very efficient way of bringing individuals together. It plays a significant role in our everyday lives and can contribute to our sense of well-being. Recent studies found out that 75% of workers with access to free food in the office are much happier compared to those who are not. Moreover, 90% of employees that sharing meals with coworkers helps them build stronger relationships with one another.
Enterprise leaders as well as office space providers are now considering impact of having accessible food in the workplace. Not only will it help them nurture connections and develop stronger sense of community, it aids member in improving how they manage their time. When members have access to meals, they save ample amount of time by not having the need to go out of their offices for lunch.
Making Good Food and Great Memories
Pioneers of the movement have already incorporated food into their respective spaces in the form of snack bars and inclusive cafes that serve daily supply of caffeine but experts suggest offering full meals instead of just treats.
Well-known food service company, ZeroCater, recommend preparing healthy options for members. According to a survey that they conducted among 100 employees and office managers, 65% of the aforementioned participants have said that having access to healthy meals is very or extremely important factor for them. Today's professionals have become more health conscious more than ever with 41% of them requesting to know the ingredients of their meals and where they came from.
Shared workspaces such as coworking spaces can benefit in offering food to their members as it helps strengthen their community. Moreover, it aids members' productivity levels by keeping them energized and involved.
Extending a Helping Hand
There's a door of opportunity that can be opened by having accessible full meals and treats in the workplace. Operators of coworking spaces can partner up with local restaurants and food providers in their area, giving business more visibility. Providers can now help more small businesses by striking up deals with them.
Adding this extra flair of uniqueness to your coworking space could be what sets you apart from all of your competition. Moreover, it makes your community and culture all the better.
https://salesrain.com/wp-content/uploads/2018/04/food-in-workplace.jpg
329
656
salesrainadmin
https://salesrain.com/wp-content/uploads/2017/09/salesrainLogoFinal-main.png
salesrainadmin
2018-04-05 09:24:44
2018-04-05 09:24:44
Food in the Workplace: How The Right Meals Get People Together