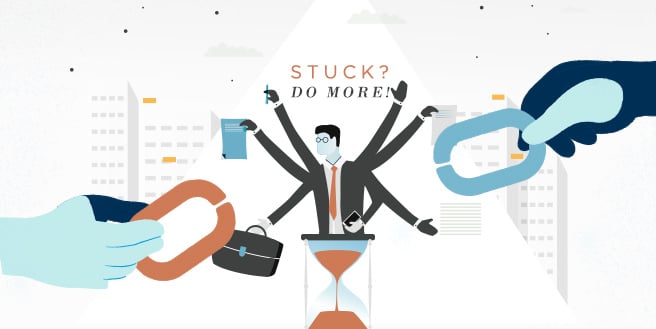 Procrastination
We all do it and we all have done it at least once or twice in our life.
We probably did it when were in school. We'd gather our books and other materials but end up staring at that homework – barely accomplishing anything.
We'd prepare all that we need for that new project yet we don't even have any clear starting point.
Admittedly, we don't really mean to do it. Sometimes we simply lack the motivation – the urgency to get things done – or the creativity to produce something we actually love. Other call it resistance. Surely, it's frustrating and as time passes, the only thing that seems to have made progress is the hour.
It seems innocent at first until the consequences start show. We are forced behind on the output and at the worse, we end up sacrificing the quality of what we produced due to the time we've wasted.
Creatives and artists know these instances too well, the feeling of being stuck or blocked. Tough weeks would go by and they would force themselves to produce something almost every day. Some would be good, others not so much – but this is okay. It's normal to have some hits and misses every now and then. However, what's not okay is, staring blankly at an empty canvass or screen, cough up, mope and repeat the same cycle over and over and over again.
Design Luck writer and Medium contributor Zat Rana advises in an article
"When you're stuck, do more"
Stuck? Then Stop Waiting
Though forcing yourself to write a new song or draw another portrait is often seen to be counter-intuitive, action brings something to the table that could help spark artistry.
Majority of us would assume that in order for one to take action, there should be inspiration present through imagination or enthusiasm, when in reality, it's the complete opposite; the need to act is what forces ingenuity.
This hindsight is expected of with the various misconceptions surrounding breakthroughs and how they are made. Stories like how an apple falling led Newton to discover gravity made it easier for us to fall into thinking that they come naturally.
Truthfully, they do happen yet they often occur sporadically. There's a huge chance of failing if we only sit and wait for inspiration to strike.
Rana claims in the aforementioned article that action stimulates inspiration more than inspiration stimulates action. A certain song or art piece can inspire us and spark a brand new idea but nothing will come off it until we actually start doing.
The moment we start doing, we gain enough momentum that we become even more energized to continue the process. The more we become invested and engaged in the activity, the more we become inspired to learn, to improve and to finish.
The Art of Doing More
Instead of coercing yourself to do a task of importance half-heartedly, cut loose and let it go. Make a list of other smaller tasks that needs to be accomplished within today and start from there. Go through your emails or clean your room – these seemingly menial tasks can help you gain enough push to create a domino effect to tackle more.
Freelancers who're fortunate enough to be members of coworking spaces can switch from one work area to another in between tasks. They can sit down by the communal areas to meet with partners and other collaborators or get a private desk of their own for some brainstorming. As they go through their To-do list, they gain enough momentum and end up finally sitting down on that great big project.
Inspired by the concept known as activation energy in Chemistry, these seeming menial tasks once done serves as the base amount of energy needed for a reaction to move forward. You now have enough energy to tackle a task that seemed difficult earlier.
At the end of the day, its core is finding a way around whatever it is that's stopping you. Give yourself the freedom of having easier alternative and let it help you in finding the right direction.
Feeling stuck is alright, but staying isn't. So go do something.
https://salesrain.com/wp-content/uploads/2018/02/stuck-do-more.jpg
329
656
salesrainadmin
https://salesrain.com/wp-content/uploads/2017/09/salesrainLogoFinal-main.png
salesrainadmin
2018-02-23 08:53:51
2018-02-23 08:53:51
Do You Feel Stuck? Then it's a Perfect Time to Do More