For years, homes and garages sheltered daily operation of small businesses and freelancers. And with the surge of remote working, the trend of working from home continues to increase. Figures report that 38% of employees from different industries like management, business, and other related professions worked from the comfort of their homes – showcasing a huge leap from the recorded 19% from the year 2003.
And though numerous studies have said that having the ability to work from home every now and then helps increase productivity – not to mention lessens the stress of an individual – it comes with downsides that could easily affect the overall work performance of a person.
The Drawbacks
The idea of going to work without the long commute and having greater control on your workflow sounds like a good deal but there are certain drawbacks that one should definitely consider first.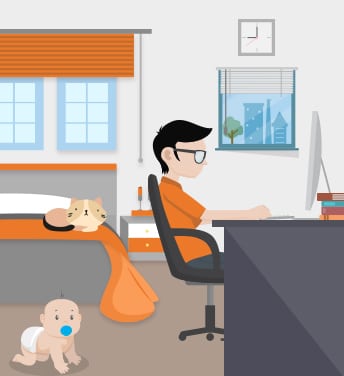 Working at home requires a lot of self-discipline. Getting up at the right time and making sure that you make the most out of the day without giving in to the temptation of procrastination and sleeping in takes a great deal of control. Moreover, it lessens the distinction between work and personal life, making it harder for an individual to shut down focus.
And overtime, the isolation will get to you. It gets lonelier without your officemates. In addition to this, less interactions make it harder for trust to be established and for relationships to develop. Face-to-face interactions allows for learning among peers, not to mention the networking opportunities you can have in a normal workplace.
Soon enough, you'll have an appetite for a new atmosphere and better social interaction. But where do you go when you've outgrown the comfort of your home? When you're finally in dire need of social interaction aside from talking to your cat or conversing over Skype?
The Rookie
Unless you've been at home with the curtains shut closed, you probably heard about a new kind of workplace that combines the flexibility and control a home offers with the networking opportunities and social interaction a traditional office gives; Coworking Spaces.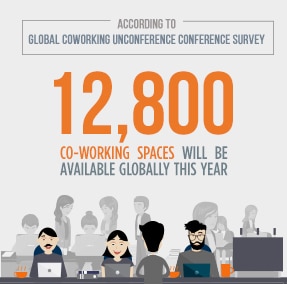 The rookie have made itself known not only among freelancers and independent professionals but even among large scale companies. Well received for its open office setup, coworking spaces gives you the freedom to choose the office setup you think suits you best. In addition to this, it fosters collaboration among its community members.
Since the year 2012, more and more coworking spaces have been established all over the globe. According to the Global Coworking Conference Survey of the year, an estimated 12,800 coworking spaces will be available globally this year in contrast to last year's 11,300. Experts have predicted a steady future for its market in the next three years.
Numerous studies have also discussed the several advantages co-workers get, from increased happiness and productivity to greater network and collaboration among professionals coming from different industries.
"To each his own" as they say. Each and every one of us have our own way of getting productive and with the trend of flexible working, we can now have the liberty of choosing the best environment that will be best for the interest of your business and your personal growth as a professional.
Interested? There's a new space in Mandaluyong about to open soon!
https://salesrain.com/wp-content/uploads/2017/08/coworkinginsteadhome-2.jpg
329
656
salesrainadmin
https://salesrain.com/wp-content/uploads/2017/09/salesrainLogoFinal-main.png
salesrainadmin
2017-09-04 08:29:24
2017-10-17 03:49:20
Why You Should Try Coworking Instead of Staying at Home