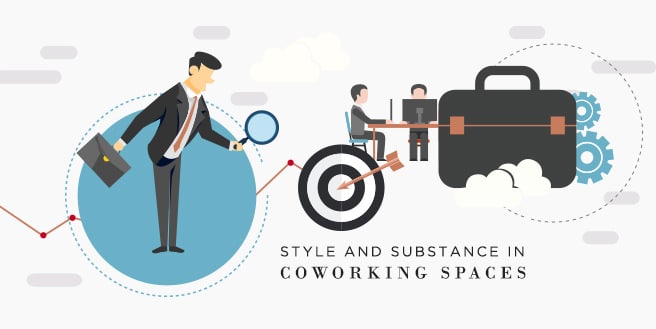 The competition among coworking spaces is tight and searching for the perfect workspace can be a daunting task.
Office space providers come up with the most unique ways to 'wow' its members from an airy loft down to outdoor bars – impeccable interior design have become a detrimental factor in winning over prospect members.
And though admittedly, an individual's working environment plays a significant role in their productivity, it's also important to make sure that they have all the technical tools needed in order to guarantee the efficiency of one's work day. More than anything else, your workplace should be able to help you accomplish more tasks rather than just inspiring you with its aesthetic.
In order to know whether a shared office carries both the style and substance needed for a happier work life, there are specific factors to remember in choosing your shared office.
Branding Matters
Each space around the world carry their own identity, with a specific set of values or culture that speaks to a segmented audience. Certain workplaces are focused only on one specific industry and serve to their distinct needs. Hence, it's only apt to pick one that matches your personality and can also serve the needs of your business.
Sancar Ayalp, managing partner of NYC-based The Farm Coworking, said in an article from New Worker that they have a clear persona for their community. This is so that they can tailor everything to address the needs of their members.
And as an average person spends 90,000 hours at work over their lifetime, it's only apt to pick one that matches your personality. Look for providers that can serve the needs of your business and could possibly help it grow. Check its location, demographic and allot a time to visit it to get a feel of the community and the vibe of the space in general.
Searching for Event Schedules
Coworking spaces pride themselves in encouraging collaboration amongst its members. A great deal of them will use their strong sense of community as a way to market membership but a qualitative measurement that they really do take it seriously is by searching for company hosted events. Your chosen provider should have a balanced number of informative events, such as workshops or talks and community-centered ones like after-work drinks, game nights and even exercise classes, both in their upcoming and past events calendar. These type of occasions can spearhead collaborations among members from different industries and create relationships from unlikely friends.
Evaluate The Benefits
As mentioned earlier, it's detrimental to evaluate how you can use the space to the benefit of your business – and we're not just discussing free coffee or printing. Certain partnerships with companies related to your field can be of big help. Moreover, there's also opportunities of expanding your professional network and even chances of mentorship. Though these factors may vary, it's helpful to remember these indicators to ensure that the resources you have will increase as you stay.
Oversee The Facilities
And more than anything else, make sure to check out the facilities that they offer. Check the layout of their office and see whether the seating arrangement would work to your liking. Ensure that they have everything you need in order to have a productive day because weighing the practicality and aesthetics of a shared office allows you to pick the best workplace for you. Eager to see what a coworking space with both style and substance looks like and book a tour with us today!
https://salesrain.com/wp-content/uploads/2018/02/styleandsubstance.jpg
329
656
salesrainadmin
https://salesrain.com/wp-content/uploads/2017/09/salesrainLogoFinal-main.png
salesrainadmin
2018-02-16 07:15:42
2018-02-16 07:15:42
Searching for Style and Substance in Coworking Spaces