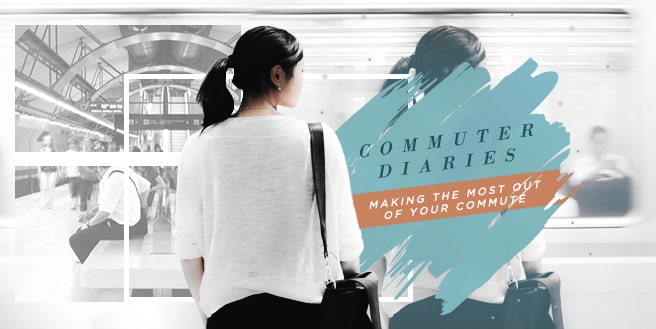 Realistically speaking, we spend majority of our life time in transit. Almost everyone is a commuter.
Every day, millions of people globally commute to work and though we do it as often as we can imagine, it doesn't necessarily mean we have grown fond of it.
Our commutes to work are growing longer and longer as we know it and we're nowhere near to actually liking it. In the US alone, over 25 million employees spend more than 90 minutes each day going to and from their jobs, and approximately 600,000 of what the U.S. Census Bureau calls as "mega-commuters" travel 90 minutes each way. And in the UK, the average round-trip travel takes 24 minutes. To make things worse, professionals from most of the world's major cities such as Milan and Manila suffer through awful traffic for over an hour.
Instead of warming up more to the activity like how one would usually become after long exposure to it, our distaste for it grows and grows.
These brewing feelings of loathe – though seemingly insubstantial – can result to serious implications in the long run. According to a 2014 British government survey, workers with lengthy travel time felt more anxious and less satisfied with their lives compared to those with shorter commutes. In addition to this, they are more prone to feeling indifferent about their daily activities. Other research suggest that they become even more exhausted and less productive at work. Moreover, they tend to have lower job satisfaction than those who live near their workplaces.
But experts believe that there's still hope. We can still improve our individual experiences by trying out certain strategies that can make our travels happier.
Shifting The Commuter Mindset
The duration of your trip to the office can be utilized to condition yourself to get into your professional zone.
Majority of us play a specific role within the walls of our home. Some of us are a parent or a partner – maybe even both and the moment we step into our workplaces, we suit up and get down to business. After 8 hours, we'd revert back to our personal lives and would sometimes even shift back to our work self before going to bed.
Each of the aforementioned alteration requires a shift of mindset. Without it, worries and other concerns that come from one role will carry over into the next one and could possibly pull us down.
Researchers from the University of California, Los Angeles suggest incorporating small routines such as checking the news or looking through at one's calendar for the day on their way to work. Studies says that those who maintained little regimens felt more happy about excited about their day, had more satisfaction in their jobs and were less stressed out compared to those who do not have one. In addition to this, these rituals were known to produce all sorts of benefits. It aids in lowering anxiety before engaging in vital performance tasks, increases enjoyment in activities at hand and could possibly aid us in recovering faster from failure or loss.
Pockets of Freedom
One of the many frustrating aspects of being a commuter is the scarce amount of control we have over traffic jams, delayed buses or crowded train stations. But amidst this, there is one thing that we have power over; the manner of spending our time during the trip.
Harvard Business Review (HBR) writer Jon M. Jachimowicz used the term Pockets of Freedom in an article he co-wrote discussing how people can reclaim their commute to describe our capability of utilizing the time we spend standing in line or inside cars to learn a new skill or improve our passions.
The phrase originated from his great aunt, Adela, who strived to have one dedicated hour each night for creative activity amidst the dreary Nazi occupation. We can make them bearable by looking at it as an opportunity to recharge.
Reduce
If all else fails, then maybe its high time to minimize our existing travel time and become less of a commuter.
A large number of us are torn between choosing to live near work or to live in a bigger home. Members of the workforce with large families would of course opt for the latter. But as living expenses in the cities become more and more expensive, it has become harder for them to live close to their jobs.
Moving houses isn't the only way to fix long travels to work, a much simpler option is promoting remote working.
The idea of working from home or having versatile work hours are becoming more common. The Census said that during the year 2014, 4.4 percent of the workforce now primarily works at home – nearly doubling the population since 1980.
Though admittedly, not all types of jobs can be susceptive to the nature of telecommuting but there remains to be a significant number of work that can be done within the parameters of a home office or cubicle.
Companies are understandably particular about implementing remote working for a number of reasons, but specific organizations are now giving it a try because fortunately, these progressive enterprises are already aware of the discomforts of being a daily commuter. Some have conducted experiments by allowing specific teams have flexible work hours. Their respective managements would have them join coworking spaces strategically located in cities that are not too cumbersome for the majority. These shared offices give teams their own desks or private offices without tying them down to a specific shift – they can go to work any time they please.
Though originally targeted towards freelancers and other solo entrepreneurs, providers are keeping their doors open for teams that want to give teleworking a try.
Census data shows that our commutes will continue to grow longer for the years to come; hence, they advise business owners to take into consideration the concrete ill-effects it has on their workforce.
https://salesrain.com/wp-content/uploads/2018/02/cummuter-diaries.jpg
329
656
salesrainadmin
https://salesrain.com/wp-content/uploads/2017/09/salesrainLogoFinal-main.png
salesrainadmin
2018-02-23 10:26:18
2018-02-23 10:26:18
Commuter Diaries: Making The Most Out Of Your Commute