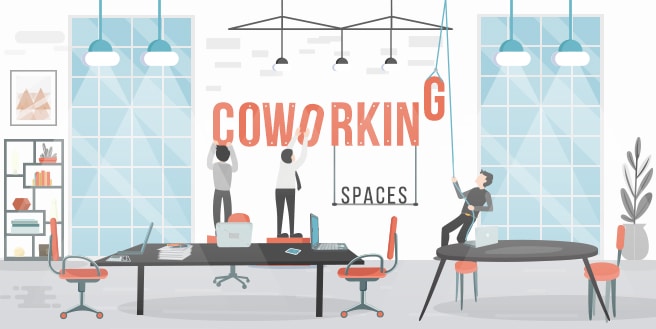 Though originally targeted towards today's young generation of remote workers, tech start-ups and solo-preneurs, coworking spaces are expanding its reach further as they tap into the market of well-established corporations.
Experts from Deskmag Magazine says that large enterprises are expected to become members of the movement over the next following years. Highly-acclaimed providers such as Mindspace now host Microsoft and Samsung as its first corporate subscribers while Serendipity Labs provide workspaces to Amazon and multinational conglomerate General Electric.
Big players are intentionally integrating coworking into their respective business strategies. JLL's Director of EMEA Research Karen Williamson, said in an article that corporations are running after the competitive edge that these shared offices provide them with, allowing them to gain access into new possible products and ideas that they could have never found in the premises of their own offices.
Corpoworking and Its Drivers
Defined as the combination of corporate business and coworking, Corporate Working remains true to the original concept of its predecessor. Adding certain specifications and modifications in the endeavor of meeting the prerequisites of traditional companies, it carries with it the versatility found in flexible workspaces and the community it prides itself in – making sure that the needs of both employers and employees are met.
Behind the growing trend are certain factors that are driving it into popularity. The highest on being innovation and collaboration – both of which are commonly found in strategies in establishing a 'forward-thinking' culture within big players and companies.
Susan Harrison of Serendipity Labs' Sales and Enterprise Solutions noted in an article that businesses with the aforementioned factors automatically gain an advantageous position in capturing innovative opportunities. Simultaneously, start-ups also benefit from collaborating alongside them. These budding organizations appreciation the validation they get from the big players as they become a reputable provider of products and services.
Accenture's research on harnessing the power of entrepreneurs further supports Harrison's statement by reporting that 78% of the participating corporate executives believe that collaboration is needed in order to tap innovation.
Another obvious driving force is its corporate economic efficiency. In hindsight, the potential of decreasing overhead costs and the chance of redirecting the savings somewhere else is the main rationale of large companies. Mindspaces' Marketing Vice President, Oded Israeli, explains that early adapters aren't the only ones who understand the movements' benefits. The market's big players are now locating teams into these shared offices and are growing an appetite for its environment.
Breaking New Ground for Big Players
As the break new ground within these shared offices, they have also come up with a new use for them.
Leveraging the modern office layout that community providers take pride in, big players have made coworking spaces their new playground in terms of expanding network and testing out foreign markets.
JLL's Williamson explains that with the movement's short-term lease, entrepreneurs can now easily experiment with the present market overseas. They can easily travel to another country and gain access to its local trading as majority of today's large scale providers allow members to switch locations from one city to another.
By joining a coworking organization, companies can easily become global companies.
https://salesrain.com/wp-content/uploads/2018/03/coworking-spaces-playground.jpg
329
656
salesrainadmin
https://salesrain.com/wp-content/uploads/2017/09/salesrainLogoFinal-main.png
salesrainadmin
2018-03-28 01:38:03
2018-03-28 01:38:16
Coworking Spaces: A Playground for the Big Players