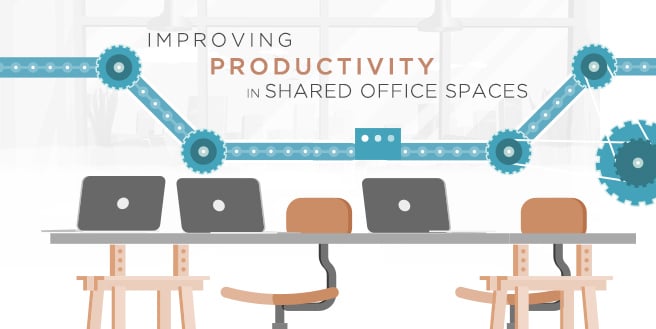 Though widely popular to today's workforce, coworking spaces is similar to any other office setting – it has its own benefits and drawbacks.
The movement became well-known to freelancers, startups and other independent entrepreneurs for factors such as professional ambiance and a wide social network that are of value to establishing a business presence. In addition to this, several surveys conducted amongst members attest to the claims that it increased their productivity and overall happiness in work.
However, just like any other workplace, these open areas are susceptible to disruptions that can make a significant impact to a person's concentration and productivity.
Unanticipated Nuisances
A study on the privacy-communication trade-off in open-plan offices stated that the benefits brought by enhanced 'ease of communication' were much smaller compared to the penalties resulting from increased noise levels and decreased privacy.
Certain individuals have a hard time getting long hours of creative and undisturbed work due to the high noise levels shared offices have as well as the other forms of distractions that cannot be overlooked. A longitudinal study have confirmed this by reporting a significant association between open-plan office designs and elevated stress levels.
And though designers believed that by diminishing walls down, employees would frequently engage in casual conversations that can spark new ideas, research shows that it may have actually backfired. Undeniably, these spontaneous conversation between employees have become more recurrent yet unfortunately, they have the tendency to be short and superficial. Members have become self-conscious due to the fact that there are a lot of people lending them their ears.
In addition, experts have pointed out that though the new setup helped create a bridge between those who are in need of help and those who are willing to help, exploitation is likely to take place. In a study conducted by a group of German and Swiss researchers, 'help seeking' participants performed better compared to 'help giving' individuals.
Alternating between one's individual tasks and helping others inflict heavy 'cognitive load' or the total amount of mental effort exerted from the working memory as they are forced to reacquaint themselves with the task they left undone.
Despite of these grievances, there are still certain teams or individuals that thrive in these kinds of environment – proof that there are still ways to combat these unforeseen noises and disturbances.
Keeping Focused in Shared Office Spaces
By listing down all of the external and internal factors that hinders workers to reach the full capacity of their productivity, specialists have come up with different solutions to them.
First, they recommend starting with the ears. Upon observation in a typical shared office, majority of its members are wearing ear buds or headphones – proven to be easiest way of reducing distractions. Admittedly, investing noise-cancelling headsets isn't scientifically proven to be an effective solution but experts have said that by helping us gain more control of our surroundings, we become more determined to work harder.
Time magazine advises teams to make use of empty conference rooms or going for walks when discussing important information or sensitive matters with their colleagues in order for them to lessen self-consciousness or self-censorship when speaking.
In addition to this, they recommend employees to block out a certain period of their day wherein they will not be disturbed in order to minimize cognitive load.
Today's modern offices helped us alleviate the numerous difficulties inflicted by the working industry but truthfully, the movement itself is subject to its own flaws and lapses. Its effect, of course, will be different for each one of us, we just have to find the way to riddle it out.
https://salesrain.com/wp-content/uploads/2017/09/salesrainLogoFinal-main.png
0
0
salesrainadmin
https://salesrain.com/wp-content/uploads/2017/09/salesrainLogoFinal-main.png
salesrainadmin
2018-01-18 10:21:48
2023-01-02 10:25:15
Getting Things Done: Improving Productivity in Shared Office Spaces