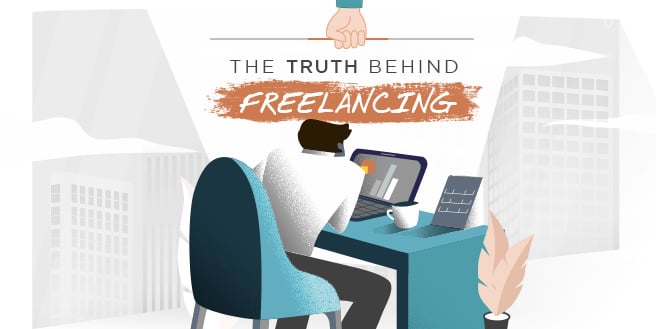 Freelancing, having the freedom to work whenever you want and wherever you want.
It's the kind of lifestyle many of us dream to have. Being able to balance both our personal and work lives. Some do it because they like the concept of supporting themselves with a job that they love. People are fond of the idea of being their own boss and having the chance to work with projects that serve their best interest.
Veterans in the industry can attest to the benefits going solo has and how rewarding it can be but at the same time, they admit that there are challenges that will change a person as they go through it.
Living the Freelancing Dream
According to the latest survey conducted by Upwork in cooperation with Freelancers Union, the freelance economy of the United States grew from 53 million during the year 2014 to 55 million in 2016 and now represents 35% of the US workforce.
Another notable trend the study revealed is that the number of people transitioning to freelance by choice is increasing. 63% of respondents reported that they made the switch by their own will, mainly because this is the ideal employment situation they want.  Some have also said that they make more money than they did before and is relatively satisfied with what they do on a daily basis.
And as the perception on freelancing change, more and more people are encouraged to take the risk for freedom and flexibility – no longer viewed as laziness. Experts predict that by the year 2020, 50% of the U.S. workforce will be freelancers.
The rising economy of on-demand work undeniably attracts the young professionals of this generation. What with the premise of doing something they love, whenever and wherever they like it, while still making money. Yet, unbeknownst to many, is the hardship people go through in becoming a 'solo entrepreneur'
Touch Reality
Business Insider contributor Ellie Martin wrote in an article that though she has no regrets for making the move to freelance, there is so much that she didn't know during the time she started transitioning. She says that it was definitely much harder than her former job and adds that it really does change the way you live. Anyone who considers choosing this kind of work should be ready to adapt to the drastic modifications it brings.
Martin says that starting a freelance career is the hardest part. People are likely to disregard your background and would pay you very little to none at all. She admits doing her first few projects for free in order to convince her clients. Building trust and reliability takes years even with a well-constructed portfolio.
She further discusses that there are other skills the industry will need you to learn in order to build long term partnerships. Knowing how to market the services you offer is expected. It is critical that you know how to set meetings with your clients and impress them.
Lastly, she highlights the mental toll that working alone brings to the table. Her social circle significantly shrunk since she started and have felt lonelier since socialization started diminishing.
Finding A Home
Figuring out how to start a freelance career can be difficult. Asking advice from friends and established solopreneurs online can be a great way to earn insight but there's also the presence of great resources that can help you kick start such as coworking spaces.
These open-layout shared offices became the home to many digital nomads of the industry. Other than offering a desk that they can call their own, providers pride themselves in the community they have curated. A built-in network of diverse talents await prospect members.
A space for like-minded individuals inspires members to be productive. It allows for their creativity to flow without limits. Moreover, it expands one's social circle and opens that person to several learning opportunities. The small interactions they make can lead to innovative collaborations and strong support groups.
At the end Ellie Martin's piece, she says that much had been said about the wonderful advantages of freelancing but she feels that it's also important to talk about its harsh realities. No doubt, it takes a lot of hard work – not to mention risky but nothing compares to having the leeway to work on something we are passionate about.
https://salesrain.com/wp-content/uploads/2018/01/thetruthbehindfreelancing.jpg
329
656
salesrainadmin
https://salesrain.com/wp-content/uploads/2017/09/salesrainLogoFinal-main.png
salesrainadmin
2018-01-24 11:33:31
2023-08-11 12:41:08
The Truth Behind Freelancing and Going Solo