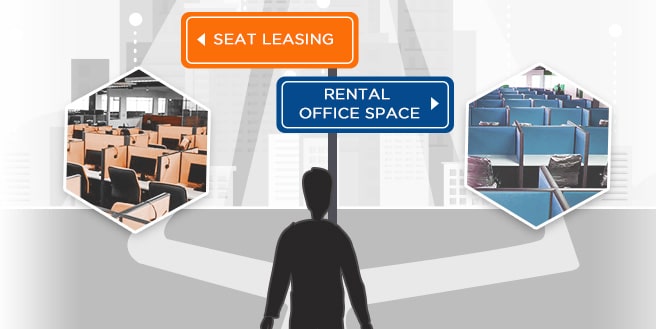 From the location, building design, aesthetics and its features, there are numerous crucial aspects in establishing the first ever office of your business. But among them are 3 factors that could make or break the big decision – the company's long term goals, current situation of the business and the amount of capital. Not only that, the process itself of acquiring the needed papers for your office to be registered takes time and is often a tedious task.
There are several things needed to be considered before choosing the office space that you need. Moreover, it comes with a heavy responsibility – making sure that the choice you are about to make won't affect your business operations in anyway.
Should you settle for traditional rental office spaces? Or to lease a few seats for a couple of months? Which will be more efficient? To help you decide which one is better, here are a few things that differentiate renting a commercial office space from leasing seats.
Seat Leasing

Seat leasing deals provide organizations the essentials in starting up a business or a new site from seats, workstations, computers, conference rooms, internet connection and IT support. Some may even offer Human Resource Services, Recruitment, and Payroll. The list of beneficial factors that seat leasing offers doesn't only end there.
For one, it could save you a lot of money. Instead of investing in your own office, you can lease the exact number of seats that you need. Seat leasing in Ortigas, Makati, Mandaluyong or Eastwood City can range from $195 to $225 per month depending on whether it will be shared or not. Moreover, the required occupancy is only a minimum of 6 months.
Another thing to note is that seat leasing saves you the time of going through tons of paperwork and buying the needed furniture. No need for the exhausting tasks of government permits and what not.
Secondly, seat providers give you modern facilities like high end PCs and fast internet. Not only will they save you from investing in furniture and equipment, they will also be saving you from staffing requirements needed – utility staff and the likes.
Lastly, seat leasing companies can be found in the major cities of the Philippines, making it more accessible to your client and employees.
Traditional Rental Office Spaces

Other else than outright owning an office space entirely, renting your own dedicated commercial office space gives you the freedom to do whatever it is that you want – it gives you complete control over the environment needed for some businesses.
Traditional rental office spaces also have long term contracts ranging from a minimum of 3 years. Though not flexible, it gives business owners the chance to build equity that can be used as collateral for when you decide to expand in the future. Moreover, this kind of office space is practical if you are predicting a steady growth of the company
However, it is important to note that there are separate costs for smaller details that are often disregarded like furniture, facilities and maintenance of your office – this alone can consume time and funding you could've spent on important aspects of the business.
Remember that before you make the big decision of choosing a new home for your business, it's important to check your finances, your scaling and whether this move will open doors containing opportunities for you. Whether you've already made up your mind or still debating, we'll be more than willing to provide you with more information, talk to us now!
https://salesrain.com/wp-content/uploads/2017/08/seatleasingvsrentaloffice-1.jpg
329
656
salesrainadmin
https://salesrain.com/wp-content/uploads/2017/09/salesrainLogoFinal-main.png
salesrainadmin
2017-08-10 03:58:34
2017-11-10 04:49:59
Seat Leasing versus Traditional Rental Office Spaces