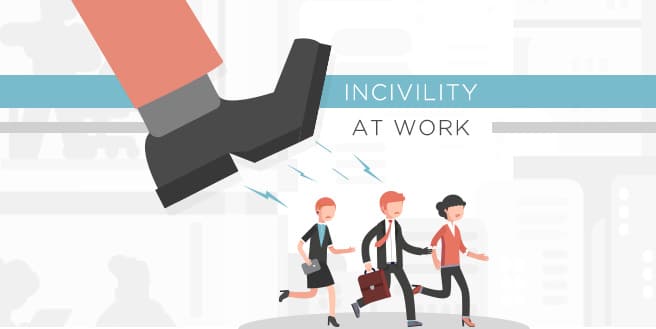 The tension in today's global market is getting more and more intense as the years go by. Companies and organizations all around the world are doing their best to tap maximum efficiency amongst their employees. Research teams are being organized to study and conduct experiments in curing burn out.
In spite of all the efforts being made by organizations all around the world to improve today's work environment even more, there's a rampant phenomenon that's slowly diminishing the talents of this generation's labor force.
Workplace incivility is on the rise and not only will it affect information sharing and teamwork, it could create lasting damages that organizations should worry about. The buildup of rude actions that leave employees feeling disrespected – intentionally ignored, undermined by coworkers, or belittled by leaders – contributes to employee burnout.
According to a research conducted over the past few years amongst thousands of workers around the world, nearly half of participants from the year 1998 said that they experienced unruly treatment at least once a month. The aforementioned figure then rose to 55 percent during the year 2011 and 62 percent come 2016.
In reality, it is impossible to pin down the cause to one factor. Some have said that existing workplace relationships may slowly be fraying as less people come in to the office and more are transitioning to shared offices. Some have pointed it to be influenced by one's genetic makeup while some said that it could be the growing narcissism of the younger generation. The globalization of the majority of today's industries has been suspected to create cultural clashes and today's technology has also contributed a fair amount of communication gaps and misunderstandings.
Whatever maybe the underlying causes for this phenomenon, the damage incivility creates to an enterprise's budget rises as the employee stress levels increase
Incivility and Harmful Outcomes
The magnitude of damage that workplace incivility can inflict depends on its degree but the wide reach of its negative effects remain the same. It creates impact to workplace performance, employee turnover, customer experience and collaboration.
Almost everyone who experiences toxic treatment performs worse than those who don't. Research also indicates that forty-seven percent of those who experienced poor behavior amongst their colleagues admitted to decreasing the time they spent at work and thirty-eight said that they intentionally reduced the quality of their work. Sixty-six percent reported the observation that their performance declined and seventy-eight said that their commitment to their employers have decreased.
Several losses have gone undetected the moment employees leave the company. The trend of professionals who quit their corporate jobs due to awful working environment is becoming a common occurrence and they don't typically admit as to why. As a result, turnover costs add up quickly.
A pressing damage that it creates involves the potential of employees. Engagement, teamwork, knowledge sharing and innovation wane among those who are half-heartedly working
It also creates an impact to customer experience. Consumers are less likely to interact with businesses they perceive to be uncivil – be it that the rude approach is directed to them or other employees.
A Safe Place
Experts have come up with several ways to reduce the alarming rate of incivility within organizations, but the most crucial first step that companies should take is improving your environment and culture.
Curating an environment that encourages open communication and constructive criticism can influence a team's culture. One example of how workplace environment and culture influence a person's behavior is the well-acclaimed shared offices, coworking spaces.
Taking pride in its community and thriving environment, startups, freelancers and even large corporations enjoy the autonomy it gives them. From when and where they work down to how they interact, professionals have complete control of their work day. Moreover, its supportive community promotes collaboration and meaningful conversations. Incivility is almost non-existent within its walls as each members learn how to understand one another despite their differences.
Civility is paramount to success.  When a team of talented individuals are all motivated to work with one another towards reaching one goal, there is almost nothing that they can't do.
Be part of a community that encourages you and your team to become closer and talk to us today!
https://salesrain.com/wp-content/uploads/2018/05/incivility-at-work.jpg
329
656
salesrainadmin
https://salesrain.com/wp-content/uploads/2017/09/salesrainLogoFinal-main.png
salesrainadmin
2018-05-10 05:31:29
2018-05-10 11:42:20
The Many Harmful Outcomes of Prevailing Incivility at Work