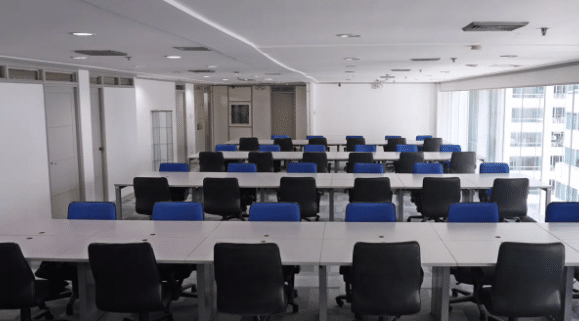 In 2023, the work landscape is evolving at an unprecedented pace, and Makati, the financial heart of Metro Manila, stands at the forefront of these transformative trends. From cutting-edge serviced offices to dynamic co-working spaces and innovative virtual offices in Makati, Makati's work ecosystem is a microcosm of the future of work. This blog delves into the trends shaping Makati's office space landscape in 2023 and beyond, offering a glimpse into how businesses adapt to the ever-changing demands of the modern workplace.
Serviced Offices in Makati: Pioneering Convenience
1. Turnkey Solutions: Serviced offices in Makati epitomize convenience. Fully furnished and equipped with modern amenities, they allow businesses to move in and start operations seamlessly.
2. Flexibility: In the era of agility, serviced offices offer businesses the freedom to scale up or down as needed. With customizable options, you can align your workspace with your growth trajectory.
Co-working Spaces in Makati: Fueling Collaboration
1. Hybrid Work Models: Co-working spaces in Makati are embracing hybrid work models, catering to both in-person and remote collaboration. Modern co-working facilities accommodate the needs of a diverse workforce.
2. Industry Focus: Niche co-working spaces tailored to specific industries are rising. From tech startups to creative professionals, Makati's co-working scene supports diverse communities of professionals.
Office Spaces for Rent in Makati: Tailored Solutions
1. Customizable Layouts: Office spaces for rent in Makati are evolving to cater to businesses of varying sizes. Customizable layouts allow businesses to design their workspace for optimal functionality.
2. Prime Locations: Makati's business districts are dotted with sought-after office spaces, giving businesses access to prestigious addresses that command attention and respect.
Virtual Offices in Makati: Embracing Digital Transformation
1. Remote Work Support: Virtual office solutions in Makati have taken center stage in supporting remote work. Services like mail handling, call forwarding, and virtual receptionists enable businesses to operate efficiently from anywhere.
2. Cost-Effective Presence: Virtual office solutions offer a cost-effective alternative to traditional offices for businesses seeking a presence in Makati without physical space requirements.
Makati's Work-of-Future Ecosystem
Makati's work landscape is a testament to the rapid evolution of work trends. Serviced offices in Makati, co-working spaces, office spaces for rent, and virtual office solutions are shaping how businesses operate, collaborate, and grow. As Makati embraces the future of work, it remains a beacon of innovation, offering companies an array of options to navigate the changing dynamics of the modern workplace. Whether seeking a traditional office, a collaborative co-working environment, or a virtual presence, Makati's diverse offerings cater to every facet of the evolving work ecosystem.
Boost your productivity in Cebu's adaptable, plug-and-play co-working spaces. Contact us today at https://salesrain.com/contact-us/.
https://salesrain.com/wp-content/uploads/2023/10/Makatis-Office-Space.png
417
579
salesrainadmin
https://salesrain.com/wp-content/uploads/2017/09/salesrainLogoFinal-main.png
salesrainadmin
2023-10-05 12:34:32
2023-10-05 12:35:26
The Future of Work: Makati's Office Space, Co-working, Virtual Office Trends in 2023