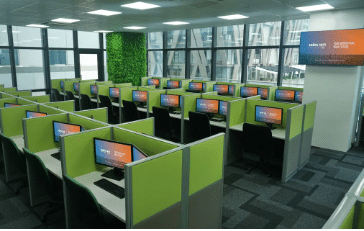 Bonifacio Global City (BGC), a bustling district in the heart of Metro Manila, has earned its reputation as a premier business and lifestyle hub. Amid its towering skyscrapers and modern architecture, BGC offers a diverse range of office spaces for rent and dynamic co-working environments that cater to the unique needs of businesses. This article delves into the advantages of embracing BGC for your office space and co-working offices in BGC.
Unveiling BGC's Allure for Businesses
1. Prime Location: BGC's strategic location is within reach of major transportation arteries, making it easily accessible for employees, clients, and partners. This proximity reduces commute times and contributes to overall operational efficiency.
2. Prestigious Business Address: Setting up a shop in BGC instantly adds prestige to your brand. The address conveys professionalism and modernity, positioning your business among industry leaders and innovators.
3. Amenities and Lifestyle: BGC is renowned for its vibrant lifestyle offerings. From upscale dining establishments and shopping centers to wellness facilities and green spaces, BGC provides a well-rounded environment that complements work-life balance.
Tailored Office Spaces for Rent
BGC caters to businesses of all sizes with its diverse office spaces for rent. Whether you're a startup seeking a compact yet efficient workspace or an established enterprise needing customization, BGC's array of office solutions can be tailored to your unique business needs.
1. Collaborative Environments: Collaborative spaces within BGC office rentals foster team interaction, innovation, and creativity. Shared areas and breakout zones provide opportunities for spontaneous idea exchange and brainstorming.
2. Flexible Scaling: As your business evolves, so do your space requirements. BGC's office rentals offer flexibility, allowing you to adjust your space as needed without the hassle of relocation.
Co-working Spaces in BGC: Fostering Synergy
BGC's co-working spaces are dynamic ecosystems that unite professionals from various industries under one roof. Here, startups can connect with mentors, freelancers can collaborate on projects, and remote workers can find a sense of community.
1. Networking Opportunities: BGC co-working spaces catalyze networking and collaboration. Regular events, workshops, and networking sessions provide avenues to forge meaningful connections.
2. Agile Growth: For businesses seeking a versatile workspace, BGC co-working spaces offer agility. Scale your operations up or down without the constraints of a traditional lease.
Elevating Your Business in BGC
BGC's blend of accessibility, prestige, and dynamic work environments makes it a compelling destination for businesses seeking office spaces for rent and co-working spaces. Whether you're after tailored office solutions or the vibrancy of a co-working community, BGC caters to diverse requirements. By choosing offices in BGC, you're not just securing a workspace but investing in an environment that supports growth, innovation, and success in the heart of Metro Manila.
Seize the opportunities that BGC brings to your business. Contact us at https://salesrain.com/contact-us/ now.
https://salesrain.com/wp-content/uploads/2023/10/BGC-Office-Space.png
231
364
salesrainadmin
https://salesrain.com/wp-content/uploads/2017/09/salesrainLogoFinal-main.png
salesrainadmin
2023-10-05 12:32:45
2023-10-05 12:32:45
BGC Office Space for Rent & Co-working Space in BGC: Tailoring Your Workspace to Your Business Needs