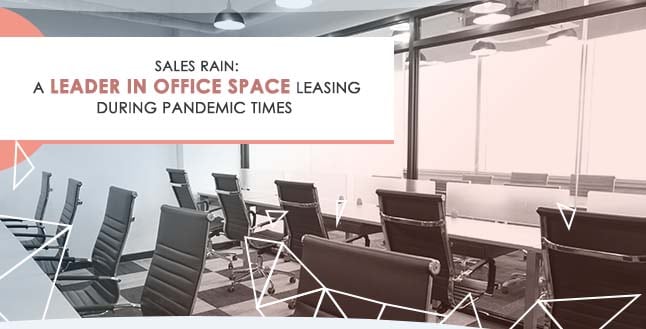 The ongoing coronavirus pandemic continues to put pressure on the Office Leasing Market due to a series of lockdowns and government-mandated orders that sent company employees to work from home. Many providers were forced to reimagine their facilities while rapidly addressing the needs of their people. Sales Rain on the other hand, persevered in adapting to the changing environment quickly by readjusting its operations and implementing new ways of working to create safe private office spaces. By making smart decisions in the past, the company has defined the importance of thinking ahead and being prepared in facing unforeseen events.
During the early stages of the company, Sales Rain's leaders Chairman Parvez Khan and CEO Rajeev Agarwal proactively purchased their offices rather than leasing them to ensure business continuity at all times. Owning fully furnished workspaces across Metro Manila enabled the company to offer more flexible lease term agreements and cost effective rates to further reach multifaceted companies and professionals.
In the intention of ensuring quality service amidst the uncertainty, the company persists in implementing agile operations and various reinventions to maintain continuity of work. In addition, the higher management increased efforts to plan business strategies and initiate measures to accommodate community concerns. While transitioning to a work-from-home setup during the lockdown, Sales Rain provided technical support and resource that clients need to be productive. Furthermore, its leaders were able to take care of company employees' well-being, salary and safety while offering multiple discounts, aggressive pricing and promotions to clients.
Despite the many difficulties brought about by Covid19, Sales Rain remained a leader in providing flexible serviced office options without interruption, which allowed the company to expand its services and gain more clients during pandemic times. Moreover, Sales Rain was still able to launch a new seat leasing facility and coworking space in Ortigas last September, while continuously making changes to its daily operations to halt the spread of the virus. The company managed to handle the ripple effects of this crisis without affecting its services and support to the community.
---
Known for its premiere seat leasing services and game-changing business solutions, Sales Rain is a renowned provider of world-class offices in prime business districts of the Philippines. Our services are designed to be the perfect strategic tool for you and your business. Rethink your way of working with us and book a tour today!
https://salesrain.com/wp-content/uploads/2021/01/SALES-RAIN-A-LEADER-IN-OFFICE-SPACE-LEASING-DURING-PANDEMIC-TIMES.jpg
329
646
salesrainadmin
https://salesrain.com/wp-content/uploads/2017/09/salesrainLogoFinal-main.png
salesrainadmin
2020-11-15 05:41:07
2023-08-11 12:47:01
Sales Rain: A Leader in Office Space Leasing During Pandemic Times