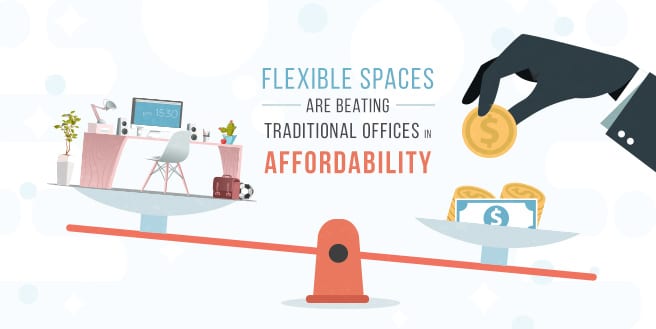 As early as January 2018, the latest research has shown a significant difference between flexible spaces and traditional offices in pricing.
The latest propriety data of real estate service firm Cushman & Wakefield and serviced office broker Instant Offices shows that businesses found in the world's major cities can save up to 73% in overhead costs if they opt for flexible workspaces than conventional office space solutions. Though the aforementioned study tagged Hong Kong as the most expensive city place to rent an office space in the world for its yearly rates of US$27,432 – nearly double the usual cost in other countries within Asia and 18% higher than that of its nearest global competitor, London – figures gathered by Instant from more than 20 years of flexible workspace listing reports that hot desks offered by coworking spaces and other serviced offices only costs US$7,607 per year.
Companies based in London can save more if they opt for the city's flexible workspaces with an average price of US$11,391 – 47% cheaper than the conventional workrooms costing around US$22,631. Experts predict that the market will remain highly competitive as the demand grows and providers' number increases. Managing director of Instant's EMEA group, John Duckworth, says that it's a common misconception amongst the majority that flexible spaces are much more expensive despite providing short lease terms and fully serviced offerings. He adds that based on their collated market data and their clients' testimonials regarding their experience in joining local markets, it's actually a practical, low-cost alternative.
Flexible Spaces, No Longer a Luxury
Though the idea of having an engaging, tech-style office seems like a luxury that only large companies can afford, it's actually much more cost-effective to invest in them rather than simply settling down in traditional layouts. As of writing, modern fit-outs cost nearly 15 percent less than conventional designs in the US – over $30 less per square foot – according to a recent report by American professional services and investment management company JLL.
According to Jacqueline Dompe, Northwest Regional Manager of JLL's Project and Development Services, tech companies with large renovation budgets are the first to adopt the trend of flexible office spaces. Still, over recent years, they're not the only ones looking for a more engaging environment. She further discusses that both employees and employers from different industries are now seeing its value. And the good news of it is far more cost-effective have possibly contributed to its popularity. It's not really an oxymoronic concept. There are a few logical reasons why these modern offices beat the traditional ones in terms of affordability.
First and foremost is the sparse need for construction materials for unassigned seat styles and open floor plans. These features are becoming increasingly popular as managements strive to provide their employees spaces that can accommodate their needs for collaborative and private areas without disregarding their own prerequisite for flexible office space solutions that can adapt to today's changing times. Dompe adds that having flexibility meant breaking down permanent walls and doors. By doing so, fewer physical materials are required, resulting in a reduction of almost 21% in project costs. Providers are also given the potential of minimizing overall square footage as they offer a wider range of options such as coworking programs to remote workers and other entrepreneurs.
The savings landlords and pioneers get from building these flexible spaces allow them to propose cost-efficient fees, which are the major contributing factors to large companies and startups' attraction to these types of modern workspaces. In addition to this, the big bonus of having the chance to divert these reductions into something far more productive and the potential of giving their employees a more meaningful experience as they work continues to be a priority of today's leaders in the market.
https://salesrain.com/wp-content/uploads/2018/03/flexible-space-affordability.jpg
329
656
salesrainadmin
https://salesrain.com/wp-content/uploads/2017/09/salesrainLogoFinal-main.png
salesrainadmin
2021-02-23 05:23:09
2021-03-05 10:43:42
Flexible Spaces are Beating Traditional Offices in Affordability