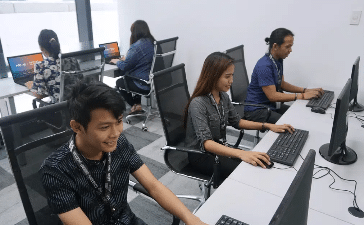 Bonifacio Global City (BGC), known for its modern skyline and dynamic atmosphere, has emerged as a premier business district in Metro Manila, Philippines. This bustling urban center has become a magnet for growing companies seeking to establish their presence in a vibrant and strategic location. With a wide array of options for co-working space and BGC offices for rent, businesses of all sizes can find the perfect workspace to fuel their growth and success.
Let's explore why BGC is the go-to destination for ambitious companies and entrepreneurs in exploring co-working space in BGC.
1. Prime Location and Accessibility
At the heart of Metro Manila, BGC boasts a strategic location with excellent connectivity to major thoroughfares and transportation hubs. Its accessibility attracts local and international businesses looking for a central base to cater to clients and partners across the city and beyond. The district's proximity to major airports and business districts makes it an ideal choice for companies with global ambitions.
2. Thriving Business Ecosystem
BGC's dynamic business ecosystem is a thriving innovation, entrepreneurship, and collaboration hub. As a melting pot of diverse industries, the district fosters a creative and supportive environment where businesses can grow and thrive. Co-working spaces in BGC play a pivotal role in this ecosystem by providing a shared workspace that encourages networking, idea-sharing, and cross-industry partnerships.
3. Flexible Workspace Solutions
For start-ups and small businesses, leasing a traditional office space can be prohibitive. Co-working spaces in BGC offer a flexible and cost-effective alternative. Entrepreneurs can rent desks or private offices for their teams, providing them access to modern amenities, high-speed internet, and professional meeting rooms without the burden of long-term commitments.
4. Tailored Office Spaces
As companies grow and their needs evolve, BGC offers a wide selection of offices for rent. These offices come in various sizes and configurations to accommodate the specific requirements of each business. Whether it's a compact space for a lean start-up or a larger office for an expanding enterprise, BGC provides tailored solutions to meet diverse business demands.
5. Networking and Collaboration Opportunities
Beyond the tangible benefits of well-equipped workspaces, co-working spaces in BGC offer intangible advantages that can significantly impact a company's growth trajectory. Businesses gain access to an extensive network of potential clients, partners, and mentors by working alongside professionals from various industries. Such collaborations often lead to innovative projects, shared expertise, and mutually beneficial partnerships.
6. Work-Life Integration:
BGC is more than just a business district; it's a lifestyle destination. The area features a mix of office towers, green spaces, shopping centers, and recreational facilities, creating a conducive work-life balance. Employees can enjoy a range of dining options, fitness centers, and leisure activities, contributing to a happy and motivated workforce.
Conclusion
Bonifacio Global City has earned its reputation as a thriving business district that provides the ideal environment for growing companies. With its strategic location, diverse business ecosystem, and abundance of flexible workspace solutions, BGC continues to attract entrepreneurs, start-ups, and established companies alike. Co-working spaces and offices in BGC offer more than just a physical workspace; they offer a gateway to endless possibilities, fostering collaboration, innovation, and success for ambitious businesses seeking to make their mark in the bustling urban landscape of Metro Manila.
So, whether you're a burgeoning start-up or an established enterprise looking for a dynamic and strategic workspace, explore the opportunities BGC offers – a vibrant canvas for your company's growth story.
Enhance your productivity and make a lasting impact! Contact us at https://salesrain.com/contact-us/ now.
https://salesrain.com/wp-content/uploads/2023/08/Co-working-Space-in-BGC.png
225
364
salesrainadmin
https://salesrain.com/wp-content/uploads/2017/09/salesrainLogoFinal-main.png
salesrainadmin
2023-08-10 09:45:19
2023-08-10 09:53:53
Offices & Co-working Space in BGC: A Thriving Business District for Growing Companies