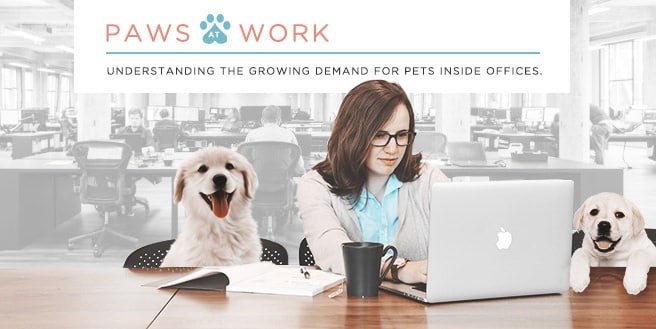 Pets have always been a thing.
Since time immemorial, these adorable creatures have accompanied us through majority of our lives. We take them with us to almost everywhere – restaurants, shops and even during our travels.
Remember that one woman from New York who tried to bring her pet peacock to Los Angeles with her? The aforementioned artist bought her service animal a seat to the flight yet in the end, it was denied entry – much to her dismay. The colorful bird is actually an emotional companion and he's not the first one to go through that same airline. Last January 2016, a turkey boarded a Delta flight and later that year, a duck flew from Charlotte to New Carolina – both of which are service animals to their owners.
It's a thing and though it stirs confusion to a majority of the audience, it's an actual rising phenomenon. Pets can now be seen not just in airplanes, but even in offices.
Pets and Mental Health
Newark Liberty International Airport reports that there's a 75 percent year-over-year increase of customers bringing emotional support pets or animals on flights. Its administration understands the need of passengers with disabilities, hence, they are doing all that they can to serve them whilst still taking into consideration the safety and well-being of their employees and other customers.
This growing number has a scientific explanation; over the recent years, experts have found evidence showing that animals don't just bring health improvements to the table, they can also help improve their owner's mental health – and this includes individuals with challenging disorders.
Though admittedly, the studies are significantly small, the reported benefits carry enough weight for clinical settings to open themselves up to animal-assisted interventions such as pet therapy alongside conventional treatments. Science have said that social support – a well-proven cure to anxiety and loneliness – can sometimes come on four legs. Animals can help alleviate stress, fear and anxiety in kids, elderly and basically, everyone in between.
Paw Friendly Workplaces
Because of the growing awareness of the upside of having these cute creatures around, the number of households with pets – commonly, cats and dogs – are rising. Their owners? Majorly members of the millennial generation.
With full time jobs, these professionals are constantly on the look-out for pet-friendly offices. What made dogs and cats wandering around corporate floors possible? The movement of coworking spaces.
Not only did they open their doors to pets in order to attract the younger demographic of today's workforce, providers moved by the positive impact the aforementioned animals creates — such as, improved productivity and higher job satisfaction. Moreover, they promote a warmer and friendlier culture – a kind of environment that everyone seems to be looking for.
These shared offices allows its members to bring their own pets with them to work. Its open plan layout gives plenty room for them to wander around and spreading smiles throughout the premise. Though there are hygiene and noise concerns with having them around, certain coworking spaces balances the interest of both pet and non-pet owners by allowing them in once a week or once a month.
As weird as the whole concept of pets around the office is, it's one of the many living evidence that we can create a happy work environment that will benefit everyone within the facility. Talk to us today and we'll help you warm up your company culture!
https://salesrain.com/wp-content/uploads/2018/06/pets-in-office.jpg
329
656
salesrainadmin
https://salesrain.com/wp-content/uploads/2017/09/salesrainLogoFinal-main.png
salesrainadmin
2018-06-06 07:33:58
2018-06-06 07:33:58
Understanding The Growing Demand For Pets Inside Offices