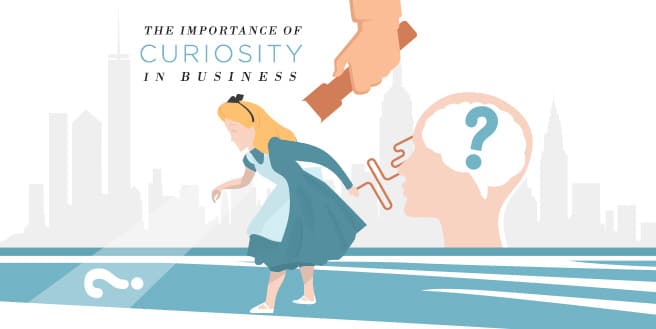 "Curiouser and curiouser!" Cried Alice
When Alice fell down the rabbit hole, it was evident then that its young audiences will develop a highly curious nature. Much like her, we marveled at the whimsical creatures that she met along the way – the Cheshire cat, the mad hatter and the nervous white rabbit wearing a waistcoat. Together, we believed that nothing is impossible, that despite of the several chances Alice had to quit, she continued on.
Yet unfortunately so, only a few grew up laden with the spirit of inquiry. A large number of us have lost our natural interest towards the world as the years have gone by. The moment we caught a glimpse of the realities of our surroundings, we no longer looked up to Alice. We seemed to have forgotten about the adventures she had and how she taught us that risks can sometimes bring brilliant unexpected results.
Be like Alice
According to a Harvard Business Review article from September 2015, curiosity is one of the main attributes expected from CEOs.
A PwC survey from the said year reported that more than a thousand participating CEOs have said that "curiosity" and "open-mindedness" as leadership traits have become increasingly critical during taxing times. Chief executive of Dell, Inc., Michael Dell said in a statement that curiosity can inspire leaders to continuously seek fresh, new ideas and approaches in order for them to keep up with the ever changing market and stay ahead of its competitors.
Inquisitive leaders also has the ability to set an example that influences creative thinking through the company. Hollywood producer Brian Grazer writes in his book A Curios Mind, leaders who manage by asking questions are laying the foundation of a culture of curiosity in your company or team.
The idea that curiosity can produce good results in business is not a new phenomenon. Years ago, Walt Disney stated that the reason why his company continuously innovates is because of their curiosity, the same trait that kept leading them to new paths.
The desire to explore and find a new perspective towards your surroundings – just like Alice – have become even more important in today's evolving, innovation-driven industry. Experts and consultants alike suggest cultivating a culture of curiosity and inquisitiveness to drive the creativity out of one's workforce.
Encourage Curiosity
In order to hone curiosity well into your company culture, it's only apt to consider certain principles that encourage the spirit of inquiry.
First and foremost, it is important to encourage query. Employees of the California-based non-profit research organization HopeLab are motivated by its CEO and President, Pat Christen, to ask questions and challenge themselves. The company created stimulating tools such as a deck of cards called "Questions for Curious" that comes with 12 categories including "beauty", "candor", "emotions" and "100% responsibility". These can be found around the office, at desks – even in conference rooms – and is often used by employees on their own or in meetings.
And because of the hectic workdays one would usually have, these tools help find time for reflection and conversation.
Another way of promoting curiosity in one's usual workday is by writing agendas as questions that needs to be solved by the end of a meeting or a day – by doing so employees become even more engaged knowing what they can bring to the outcome. Christen explains in the aforementioned Harvard Business Review article that everyone present in a meeting is invited to join the conversation and is expected to ask questions, share ideas and contribute.
Private enterprises are not the only ones coming up with other strategies in strengthening the sense of inquiry of today's workforce. The well-acclaimed movement of shared offices commonly known as coworking spaces have used architectural design and the psychology of performance in their advantage. By implementing open layouts, members get the chance to share their thoughts with other like-minded individuals. Its diverse community encourages members try out new things and open doors to undiscovered opportunities.
Somewhere amidst her adventures, Alice began to think that there are very few things that are impossible. Her story pushes us to become more versatile, more creative and motivates us to remain eager to learn.
https://salesrain.com/wp-content/uploads/2018/03/curiosity.jpg
329
656
salesrainadmin
https://salesrain.com/wp-content/uploads/2017/09/salesrainLogoFinal-main.png
salesrainadmin
2018-03-01 10:50:20
2018-03-01 11:07:08
Thinking Like Alice: The Importance of Curiosity in Business