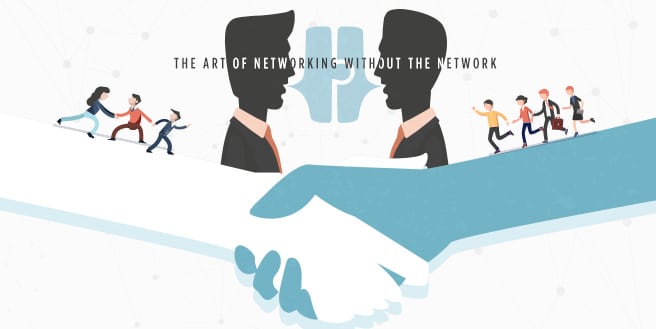 An average person would spend one third of his/her life working and within that period, they would meet a hundred to a thousand of professionals through meetings, conferences and other colleagues. Somewhere along the way, we would create connections with these individuals and form a professional network with one another.
The bonds that we create with them plays a crucial role in the overall success of our career life. Hence, it's important for us to be consistent in building our professional network – no matter what industry we are from. Anyone you meet can be of help to you and your career in the long run.
But to say that networking is your singular goal whenever you start a conversation with someone can present a negative connotation towards your personality. Connections done the right way create authentic bonds, giving the impression that you're not after what that person has to offer but rather, you're simply interested in knowing another like-minded individual.
And as the new year starts, it's only apt that we find ways to improve and develop our communication skills. Here are the different ways we can maintain authentic connections be it in informal or formal occasions.
Fortifying Bonds through Networking
When taking part in social gatherings, it helps to start by looking for someone you already know and start catching up before making your way to the new faces around you. CEO of professional networking company Voray, David Olk suggests in a Business News Daily article to have a genuine conversation with someone familiar about things that you have in common before working your way around other people who look lost. Stick out a handshake as conversation starter.
Inspire Human Resources CEO Jaime Klein adds that one should mingle around when there are no assigned seats. These relaxed environments can be used to one's advantage and make several connections.
Diversify
Olk also notes that spending ample time with people to get to know them better is the true meaning of "networking" – not pushing a certain agenda or idea.
He adds that we should avoid seeing it as a chance to sell your business or you yourself but rather view it as a chance to be in the same room with interesting new people that you'd love to meet. During work gatherings, try and sit with a member for another team that you haven't spoken to. Keep things brief to spark a more intricate conversation when the gathering is over.
Keep up
In order to keep the relationships you have made after a party or a gathering, it's important to keep up with them. Send them a thank you note through email and maybe send them a request in LinkedIn. Add in a little note to someone new that you met during the recent gathering. One can also make smart use of their other social media accounts to stay in touch with them.
Other than the aforementioned ways we can create and maintain relationships, the newest way of working have also provided us with a platform wherein we can meet, collaborate and learn through other professionals coming from different industries.
These shared offices commonly known as coworking spaces were designed to improve collaboration and communication. Breaking through the traditional cubicles, its open plan layout allows its members to switch from private desks made to help them concentrate to communal areas made for socializing.
It prides itself in the community it curates and makes it their mission to continue cultivate and enhance the relationships it has built between its members through workshops, events and even parties.
Investing time and effort in building authentic connections within your network will not only help you build your career in the long run, but makes work worthwhile.
Become part of something greater and inquire today to join our very first coworking space!
https://salesrain.com/wp-content/uploads/2018/03/The-Art-of-Networking-without-the-Network.jpg
329
656
salesrainadmin
https://salesrain.com/wp-content/uploads/2017/09/salesrainLogoFinal-main.png
salesrainadmin
2018-03-06 07:53:22
2018-03-06 07:53:22
Forming Bonds: The Art of Networking Without The Network