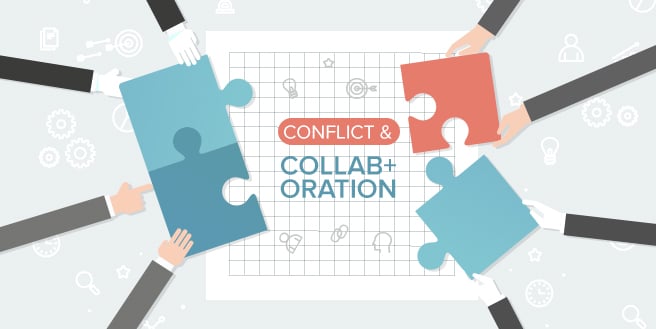 In an ideal world, each one of us would agree with one another. We wouldn't have painful arguments or conflicts that would later create more damaging issues. We would be in harmonious circumstances, happily going on our own ways.
Realistically speaking, this ideology is impossible to achieve. Whenever we force each other to agree with one another, the more we grow farther apart.
This idyllic expectation of sunshine and rainbows is crushing collaboration. Instead of being the messy back-and-forth process it naturally is, we force it to become harmonious. We expect everyone to concur and be supportive towards everyone yet this constant desire hinders partnerships in fulfilling its promises of greater innovation and improved risk moderation. At its universal form, collaboration coincides with healthy conflict.
Conflict and Collaboration
A large majority of us have been taught to see collaboration and conflict as two different things.  The common narrative for teams include perfect synchronization and tight formation. As players gathered in one team, you should "all be in the same boat" and to be a good member, you must "row in the same direction" but contrary to popular belief, these dreamy visions of what a team should be is what weakens them.
Nothing is perfect. In collaboration, tension, disagreement and conflict is needed in order to improve the value of an idea. It helps expose the risk of a plan and leads to an enriched trust among the participants.
It's high time that managements change their mindsets towards conflict. They should start letting go of the idea that it is destructive and embrace its potential to be productive. Moving beyond clichés and daydreams, the activity of collaboration becomes excessive if you only resort to agreeing. American writer and political commentator Walter Lippmann did say, "Where all think alike, no one thinks very much." In order to make the most out of it, divergence is needed before convergence.
But much to our dismay, our antipathy towards discords is embedded so deep into our thoughts that it takes a great deal of effort to encourage even the most modest disagreements. Though there are certain steps that teams can take in order to develop productive friction when it's needed.
Encouraging Conflict
First, it's important for teams to discuss and recognize the different roles of each member and emphasize what each position brings to the project.  Explain how they each contribute to different agendas. Having good composition allows groups to normalize the tension collaboration naturally brings. Fighting for the best solution possible becomes a norm and gives people a new perspective on disagreement with colleagues.
Secondly, the use of personality or style assessment tools helps figure out the differences in each individual. Other than that of stemming from their respective jobs, each member will have a different view on things depending on their personalities. This would help you foresee any personality related conflict that could arise.
Lastly, in order to normalize and encourage productive conflict, teams should establish sets of ground rules around discord. Figure out behaviors that create positive contributions and separate those that detract from it. It's important to paint a clear picture of what is, and is not, acceptable behavior to the rest of the team.
It also helps to define processes so that you will have a more-frequent or more-effective conflict.
Admittedly, it's not enough to simply just follow the aforementioned techniques. Changing people's mindset towards conflict and disagreement goes beyond. Some teams even go as far as joining coworking spaces to gain brand new perspective. These shared offices take pride in the great communities they create. Its open layout encourages open communication and the diversity of its members shows that there is beauty in each one's differences.
https://salesrain.com/wp-content/uploads/2018/07/conflict-and-collaboration.jpg
329
656
salesrainadmin
https://salesrain.com/wp-content/uploads/2017/09/salesrainLogoFinal-main.png
salesrainadmin
2018-08-06 05:08:58
2018-08-06 05:08:58
Why Encouraging Conflict is Needed in Fostering Collaboration