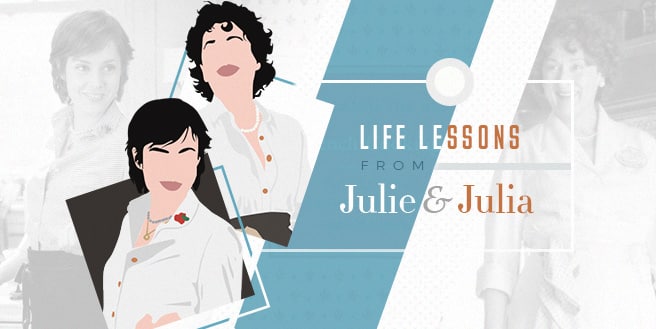 Julia Child was an American woman married to a French diplomat who wanted to be so much more than just a wife yet was unsure of what she wanted to do. While Julie Powell is a 29 year old woman stuck in a cubicle with a run-down-the-mill job who felt lost.
The difference between them seemed non-existent at first, but Julia Child published her cookbook entitled The Art of French Cooking in the USA during the year 1961 all the while Julie Powell started her blog entitled the Julie/Julia Project in 2002.
With years separating these two ladies, no one would've thought that passion and cooking will create a connection between them.
Julie and Julia
Julie and Julia is a 2009 movie that combined the success stories of two different American woman and the life lessons that they have conveyed to women everywhere.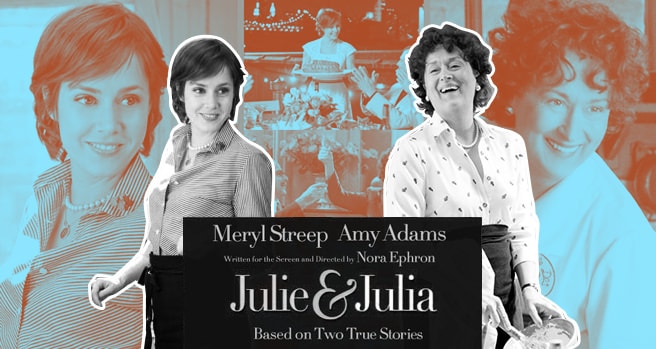 Julia Child's passion for French food led her to enroll into the famous all male French cooking school Le Cordon Bleu at the age of 30. And despite the doubts her fellow students have thrown at her, she managed to be a chef. 7 years later, she published a cook book entitled The Art of French Cooking in collaboration with Simone Beck and Louisette Berthole. Years later, her cookbook inspires frustrated writer Julie Powell to start a blog of her own entitled Julie/Julia Project wherein she tries to cook all 524 recipes within one year. She continues her day job at a development corporation as she blogs.  Writer and director, Nora Ephron, combined Julia Child's autobiography entitled My Life In France and Julie Powell's blog into a movie about chasing after your dream.
Life Lessons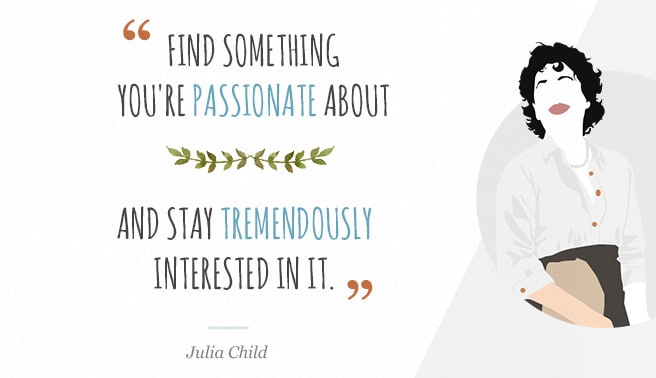 Though set in different times, both stories of Julie and Julia relates to a handful members of the workforce and conveys meaningful life lessons that are worth sharing to the world.
Despite of Julia's age, she continued to search for her life's passion and didn't care if most of her friends are already ahead of her. The movie starts in France where she continues her career exploration after having worked as an advertising copywriter and serving the government. She gives hat-making a try since she liked wearing hats yet it simply wasn't for her. And instead of criticizing herself, she tries playing cards – turns out, it's still not her thing. She finally moves to cooking and alas, she finally makes a connection with something she enjoys doing.
Julia Child's road to cooking inspires us to go through our own pace and stop berating ourselves if we haven't found our true life's passion. Her career exploration wasn't a waste of time, she didn't mind learning and experiment on what she liked and didn't like. She knew that it was her own pace of discovery and growth – a concept that we can hopefully try in the future.
Julie Powell went through a similar dilemma as well. As she worked herself away in her small cubicle, she saw her friends' careers take off while she remained in her small apartment and mediocre job. She felt unhappy and lost. She was drowning in self-doubt when Julia Child's cookbook pulled her out.
She starts a blog entitled Julie/Julia Project wherein she tries to cook all 524 recipes found in The Art of French Cooking within a year. And though she struggled to complete all recipes all the while maintaining her day job, she pulled through. In addition to this, writing also helped Julie rediscover herself.  Through it, she confronted aspects of herself that she hated, like her recurring mental breakdowns and how she takes his husband for granted. Immediately, she tries to resolve this issues within herself. Julie Powell's unwavering determination is proof that commitment pays off. She took personal responsibility of her success and treated her failures as temporary setbacks.
The ability to make a living out of what brings you joy is an opportunity not a lot of people can have but these two women are proof that maybe it's not too late to chase after what you want. Today's workforce continues to challenge the traditions we have had in order to have a healthier career life. Flexible workspaces and working hours allow professionals to have enough time to pick up a new hobby or learn a new skill that they've been eyeing for a while now.
In her book, Julie says
"Julia taught me what it takes to find your way in the world. It's not what I thought it was. I thought it was all about-I don't know, confidence or will or luck. Those are all some good things to have, no question. But there's something else, something that these things grow out of. It's joy."
https://salesrain.com/wp-content/uploads/2017/11/Lifelessonsfromjuliejulia.jpg
329
656
salesrainadmin
https://salesrain.com/wp-content/uploads/2017/09/salesrainLogoFinal-main.png
salesrainadmin
2017-11-21 10:31:05
2017-11-21 10:31:05
Life Lessons from Julie and Julia