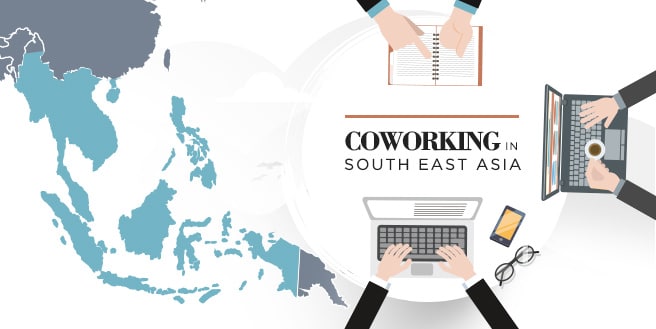 Experts have already said it; the movement of coworking is no longer a fad but rather, a new way of working and living.
It has proved itself to be a lasting trend that drives major changes in the work market today. Not only is it disrupting the traditional standards of work in both US and Europe, there have also been a significant spike found in Southeast Asia.
Providers have discovered qualities unique to the region that allowed them to expand rapidly. And in order to understand how the movement managed to thrive in the area, it's important to know why and how the locality have become drawn into these unorthodox offices.
Coworking in Context
The high growth rate of the economy in Southeast Asia paved the way for a community of startups and freelancers to flourish. As a result, the demand for affordable workspaces increased.
Pioneers of the movement found their niche in the region by using its unique need for diversity in the workforce to their advantage. Coworking spaces that offer regional access to cities such as Bangkok, Singapore and Manila have made it easier for members to expand their network with collaboration. Moreover, tapping into the distinct talent pool across different countries is now easier because entrepreneurs can now access specific expertise found in various locations.
Another driving force behind its success is the highly fragmented market present in the area. Businesses aiming to penetrate a new region presumes that there are several distinct challenges they are bound to encounter in each market segment. Hence, it's only apt that they build a local team that would help them understand the landscape of each country, giving them a competitive edge.
Due to the aforementioned impositions and unique circumstances brought upon by the sector's economy, more and more coworking spaces have opened in the recent years. Singapore alone boasts an estimated of 53 spaces from having a single one back in 2009. Vietnam has more than 50 given that the movement arrived in the country last 2012 and cities like Manila are attracting a slew of global players.
Other than the nature of its economy, there are many aspects that play a major role in the long term success of the aforementioned segment.
Government Support in Southeast Asia
Providing members with more than just the bare necessities of an office, the community they curate serves as a universal support system that helps budding startups grow and develop by creating a platform for them to connect with one another.
As a result, Southeast Asian governments view the movement as a new strategic tool that can encourage entrepreneurship within the population. Several countries in Southeast Asia have already started implementing policies that support coworking spaces. For one, members of the governing body of Vietnam are creating shared offices for small companies as one of their initiatives in transforming the country into a startup nation by the year 2020. Indonesia is taking an active part in a wider global initiative created for promoting entrepreneurship among developing countries; the Global Entrepreneurship Program Indonesia or GEPI which offers coworking spaces for startups that are still in its early-stage.
https://salesrain.com/wp-content/uploads/2018/02/coworking-southeastasia.jpg
329
656
salesrainadmin
https://salesrain.com/wp-content/uploads/2017/09/salesrainLogoFinal-main.png
salesrainadmin
2018-02-07 18:50:43
2018-02-07 18:50:43
Government Extends Support to Coworking in Southeast Asia