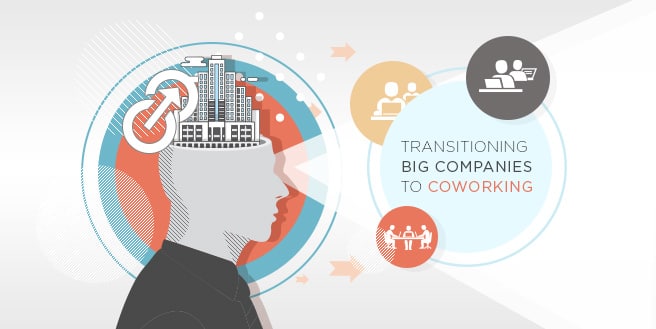 Since its success, coworking has expanded its reach from solo entrepreneurs, home-based entrepreneurs and startups, they now accommodate established and big companies – large teams or departments and other individual employees with flexible work hours.
The movement caught the affinity of today's young professionals with its affordable offices, aesthetically pleasing work areas and great environment. The greater audience of the industry lauded it for the benefits and immeasurable opportunities it provides. Hence, it didn't come as a surprise when established companies and even conglomerates were observed to be coming in and out of different shared offices.
Since then, it's been observed as a rising trend among big companies and industry players as influential enterprises and Fortune 500 enterprises move their employees and teams to local coworking spaces. Partnerships between organizations and providers have been established over the last few years causing a large disruption in the real estate industry.
One prominent explanation behind the aforementioned sudden liking is the large pool of talent and ideas nestled in these shared offices. Tech giants and large corporations want to become part of its diverse growing community of innovators in hopes of gaining new perspective that they wouldn't usually find in the premises of a corporate environment. Moreover, it gives them a better advantage against their competitors as they keep a close ear to any technological advancement or trend that cause potential threat in the industry and allows them to attract top talent and closely monitor any potential target acquisitions.
Though it's rapidly becoming a common scenario, much is still left to be learned on how leading organizations can make the most of these shared offices. Transitioning to flexible working doesn't have to be as hard as one would imagine, here are a few steps to ease your move.
Changing Over of Big Companies
The first and most important would be finding a space that fits an organization's current culture. It's important for prospect members to establish an open communication with the providers on what will fit for them – the space, its people and its vibe. Creating a discussion on what would work best for both parties is needed.
And since coworking managements will now be dealing with a much larger group of people, its only apt to come up with a brand new and much more flexible agreement for a new kind of lease. Take into consideration that some big companies and other prospective clients would be used to long term leases that could entail other extras such as concessions and more.
Security concerns are detrimental factors in the deliberation. Will they be needing any additional security needs? Can their equipment and other sensitive documents be safe in your private offices?
Once all important details and other technicalities are discussed, introduce the new team or individuals to the rest of the community. The connections and fortunate happenstances that could be made between members are one of the highlights as to why they have decided to join in.
By doing so, you can help freelancers to get gigs and corporations to get new people.
https://salesrain.com/wp-content/uploads/2018/04/transitioning-big-companies-to-coworking.jpg
329
656
salesrainadmin
https://salesrain.com/wp-content/uploads/2017/09/salesrainLogoFinal-main.png
salesrainadmin
2021-04-09 17:06:17
2021-05-04 07:51:19
How to Effectively Transition Big Companies to Coworking