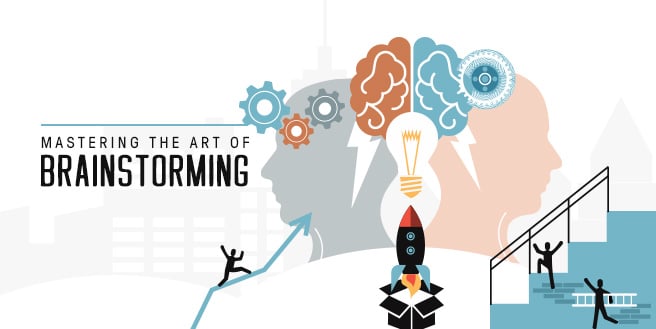 July 2014, the Virgin Media Business invited 30 of United Kingdom's hottest startups, along with several other industry leaders for a ride to the London Eye as they debate the future of six key sectors of the economy – media and entertainment, food, fashion and beauty, social enterprise, retail and healthcare.
Entitled 30:30 Vision, the event served as a wide brainstorming session on the future of UK business. English business magnate and Virgin Group founder Sir Richard Branson said in a statement that collaboration between businesses of all sizes could be the key to succeeding in the 21st century. He further adds that large companies can learn a thing or two about innovation from startups.
Sir Branson is one of the many entrepreneurs who believed in the power of brainstorming and the ideas that can be produced by working together.
Collaborating Great Minds
DeskMag defines Brainstorming as a widely-used, powerful tool for creative problem solving that breaks away from the rigid, process-driven thinking. It surpasses barriers between members of the team and lets them forget their fear of failure as it gives them the freedom of coming up with as many ideas as they can. Though it disregards the viability of each proposal, the process itself can help improve them into something that is effective and useful.
But the process itself is not easily achieved in traditional private offices. Cubicles hindered employees from casually interacting with one another to generate fresh and creative ideas. And when several designers and experts saw the demand for collaborative work areas, the movement of coworking spaces emerged.
Now, thousands of these unique open-plan designed headquarters are found around the world – each one founded by community and collaboration. And though its layout made a great contribution in creating a platform for individuals to work together, there are certain things to take into consideration and lessons to remember before starting your first brainstorming session.
It's vital to be prepared and organized so that you and your team can get the most out of your time.
The Mastery of Creative Brainstorming
Psychologist Keith Sawyers states in an article from The New Yorker that there are decades of scientific research consistently showcasing brainstorming groups producing fewer ideas that the number produced by individuals who would work alone and later share their suggestions.
DeskMag recommends that instead of forcing employees to generate new concepts or design during a session, set a specific goal – for example, request them to come up with 10 new ways you can attract more clients. After doing so, give them enough time to reflect individually before sharing their proposition with the rest of the team.
Creativity is often a process that cannot be restricted with time and when an existing idea is evolved and expanded into a viable solution, it gives your discussion purpose and structure.
There is a lot of discussion whether criticism should be present during a brainstorming process or not. Fast Company's Cliff Kang says that it plays an important role in the said activity while some experts dissent this idea.
In hindsight, both viewpoints are somewhat true. Constructive criticism can refine an idea by identifying its weak areas and highlighting problems that can arise all the while attacking a suggestion can lead to discouraged participants. Proscribing it can encourage your members to openly share their thoughts but utilizing it as a tool for creating feasible solutions may produce great results.
And to ensure structure and focus in the set topic, have a designated moderator that can monitor the direction of the talk. The assigned individual can take notes and create a summary of the session as a whole. By doing this, the time and effort you invested in brainstorming would come to fruition. Integrate these new concepts into your workflow and see which would of them would work.
In an article he personally wrote entitled 'Looking at the future of business with 30:30 Vision', Sir Branson clarifies that the event is by no means a competition amongst the participants but instead aims to encourage collaboration between our future leaders. He adds "If we put our heads together, share our resources and stimulate innovation, the seemingly inconceivable can not only become a possibility, but a reality."
With the emergence of shared offices such as coworking spaces, it's only apt that we prepare ourselves for one big brainstorming session.
Have an idea you've been dying to share with anyone? Hit us up and let's talk about it!
https://salesrain.com/wp-content/uploads/2018/01/mastering-the-art-of-brainstorming.jpg
329
656
salesrainadmin
https://salesrain.com/wp-content/uploads/2017/09/salesrainLogoFinal-main.png
salesrainadmin
2018-02-02 11:07:28
2023-08-11 13:01:23
A UK Initiative in Mastering The Art of Brainstorming